Your Source for the latest news and articles about the Pocket PC!
Week of February 5, 2006
Application Verifier Tool for Windows Mobile® 5.0

The Application Verifier tool assesses the stability of an application and detects common programming mistakes. The tool can detect and pinpoint memory leaks, handle leaks, and leaks in graphics device interface (GDI) objects. The tool can also detect some forms of heap corruption.

Application Verifier attaches to an application and performs tests while the application runs. With the tool, you may be able to diagnose subtle problems with an application that would otherwise be difficult to diagnose on Microsoft® Windows® CE.

Each test that Application Verifier runs is referred to as a shim. The tool inserts the shim into the code path between the calling function and the intended target function. A shim loads into the process space, and the kernel redirects calls from other libraries to the shim.

You might find it helpful to run a shim with a debugger attached to the target device. If a debugger is attached to the target device, the debugger points to the location where the exception occurred, which might be close to the source of the problem identified by the shim.

For a specified application, you can select the shims that Application Verifier uses to test the application. Examples of tests performed by shims for the tool include tests for memory leaks, tests for the usage of specific application programming interfaces (APIs), and tests for memory corruption. (Source: Microsoft Website)
Posted Saturday, February 11 2006 by ChrisD
Rating: 2.66 Comments ()

---
Microsoft Reader 2.4 for Pocket PC

Microsoft Reader for Pocket PC 2002, Pocket PC 2003, Pocket PC 2003 SE

This version of Microsoft Reader for Pocket PC (version 2.4) is compatible with:

Windows Mobile™ 2003 based Pocket PC and Phone Edition devices
Windows Mobile 2003, Second Edition based Pocket PC and Phone Edition devices
It is not compatible with Windows Mobile-based Smartphone devices or Windows Mobile 5.0 devices

(Source: Microsoft Website)
Posted Saturday, February 11 2006 by ChrisD
Rating: 3 Comments ()

---
Cingular releases two tiny PCs: the 8100 and 8125 with Windows Mobile 5.0

Convergence comes in a very small package today, with Cingular's US release of two Windows Mobile-based handheld PCs. The new 8100 and 8125 models - the latter including a 1.3 Mp digital camera - represent Cingular's take on two popular UK portable models manufactured by maverick Taiwan-based handheld platform designer HTC. (Source: Scott M. Fulton, III, TGDaily)
Posted Friday, February 10 2006 by ChrisD
Rating: n/a Comments ()

---
Ultimate Bowling Fighter for Pocket PC


Ultimate Bowling Fighter for Pocket PC

Welcome to Ultimate Bowling Fighter - a non-stop, round-the-world bowling challenge tournament for your handheld.

Select your character to battle against international opponents, unlock new challengers and locations and display your special skills as you attempt to become the Ultimate Bowling Fighter. Choose from Ryo - the skillful Japanese warrior; Kelly - the all-American bowling heroine; Jose - the smooth Spanish hustler; or Maya the bootylicious Brazilian diva and challenge the others to a duel in the bowling alley.
(Soure: Press Release)
Posted Wednesday, February 8 2006 by ChrisD
Rating: 3 Comments ()

---
Do you want to access your (or, any) Pocket PC from another (desktop) computer?



Pocket PC remote controller applications can be really great – they offer a really easy way to access the Pocket PC from a desktop computer, which, in cases, can even be a remote one. You can use your Pocket PC far easier this way, using the keyboard and mouse of the desktop PC and being able to see the screen of the Pocket PC, with some clients, even zoomed in (magnified).

Over than half a year ago, I've already published an article on this subject. It can be found here (alternatives: iPAQ HQ, AximSite, PPC Magazine, FirstLoox, BrightHand). In addition, I recommend this blog entry on the latest Pocket Controller version.

Before reading on, reading these two articles is highly recommended.

As I not only discuss the "local" (you use the desktop keyboard/mouse to access your Pocket PC to make it much easier to enter for example text on it and also see its screen on the desktop computer) but also the "remote" way of accessing Pocket PC's, I've also included in the current article a detailed discussion of the current Virtual Network Computing (VNC) servers for the Pocket PC. (Source: Expert: Werner "Menneisyys" Ruotsalainen, Smartphone & Pocket PC Magazine Blog)


Posted Wednesday, February 8 2006 by ChrisD
Rating: 4 Comments ()

---
OmniMD showcasing its Cardiology Electronic Medical Record(EMR) at American College of Cardiology Expo 2006



OmniMD (http:\\www.omnimd.com), a leading developer of HIPAA compliant Pocket PC/ Tablet PC / PDA enabled Internet-based healthcare practice solutions, is participating in the American College of Cardiology (ACC) Expo, being held from March 11-14, 2006 at the Georgia World Congress Center -Atlanta, Georgia. The new version of OmniMD widely used cardiology specialty Electronic Medical Record (EMR) software will be showcased at the event.

ACC Expo 2006 (www.expo.acc.org) is being concurrently held with the 55th Annual Scientific Session of American College of Cardiology and the event is an ideal platform for cardiologists and physicians to network with peers, experts and vendors while exploring the benefits of the most innovative cardiovascular technologies.

"The aim at ACC '06 would be to showcase OmniMD Cardiology Specialty EMR and highlight its strong customization and point and click features. We will also use this opportunity to present an overview of our integrated services such as medical billing, transcriptions and document management to cardiologists and physicians."says Divan Da've, CEO: OmniMD.

OmniMD Cardiology EMR addresses the practice automation needs of cardiology

specialty. The cardiology specific EMR includes clinically-defined templates for cardiology complaints, history of present illness, review of systems, physical exams by systems and cardiology procedures and notes. The system also includes cardiology specific ICD and CPT codes that are used to capture accurate charges and quickly generate electronic superbills at the point of care. To meet specific practice needs, OmniMD offers customizable point-and-click templates and it can also accommodate cardiology forms and templates that are currently being used by the cardiologist.

Attendees will be able to experience the product first hand and learn more about how EMR can improve their practice workflow and patient care by migrating from paper-based health records to EHR systems . In addition to Cardiology, OmniMD also offers specialty EMR software for Dermatology, Endocrinology, Gastroenterology, Family Practice, Internal Medicine, Neurology, OB/GYN (Gynecology), Ophthalmology, Orthopedics, Pain Management, Pediatrics, Psychiatry, Pulmonology and Urology.

OmniMD's Electronic Medical Records (EMR) suite comprises of Appointment Scheduler, Patient Reminder, Online Eligibility Check, Charge Capture, Prescription Writer, Specialty EMR, Point and click, Referral Management, Document Management, Lab Interface, Patient Education, Medical Transcription, Integrated Medical Billing Services and Practice Web Site. OmniMD EMR Suite is a fully integrated solution for a physician who is looking to automate practice workflow without worrying about operating on different systems and platforms or implementing technology in patches. (Source: Press Release)


Posted Tuesday, February 7 2006 by ChrisD
Rating: 3.66 Comments ()

---
Handmark® Renews Exclusive Distribution Agreement with JAMDAT Mobile for Tetris®



Global Leader in Mobile Media to Continue to Publish and Distribute Tetris for Handhelds and Smartphones

KANSAS CITY, MO — (6 February 2006) — Handmark®, a global leader in mobile media, today announced that it has entered a three year exclusive agreement with global wireless entertainment publisher JAMDAT Mobile Inc. (NASDAQ: JMDT) under which Handmark will continue to publish and distribute Tetris® for handhelds and smartphones running on the Palm OS®, Windows Mobile™ and BlackBerry™ operating systems. Handmark has been the exclusive licensee for Tetris for Palm OS and Windows Mobile since 2000.

The agreement allows Handmark to bring Tetris, one of the most widely-played interactive games of all time, to the latest generation of mobile smart devices including the Palm Treo® 650 and 700w smartphones and the BlackBerry 8700 Wireless Handheld™.

"Handmark is committed to bringing our customers must-have applications for their mobile smart devices and Tetris certainly leads the category," said Douglas Edwards, Handmark cofounder and chief marketing officer. "Tetris has been a top-selling Handmark product across all of our sales channels: retail, online, and over-the-air, since its release. That is a huge testament to the enduring popularity of this classic game."

Tetris is a simple, highly addictive puzzle game. Players attempt to manipulate block-like pieces called "Tetriminos" as they drop into a well. As the Tetriminos fall, players attempt to neatly arrange them into a horizontal row. When the row is complete, it is removed from the well and the player's score increases.

For more information about Tetris for Palm OS, Windows Mobile, and BlackBerry, please visit www.handmark.com. (Source: Press Release)


Posted Monday, February 6 2006 by ChrisD
Rating: n/a Comments ()

---
LingvoSoft Suite 2006 for Pocket PC is finally released.



The newest LingvoSoft release for Pocket PC is a true revelation. The new powerful suite lets you instantly turn your Pocket PC into a powerful translating tool and language-learning resource.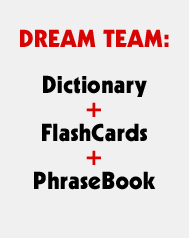 This essential set of software includes a speech-enabled, bidirectional translating dictionary with extensive 400,000 word vocabulary; a talking phrasebook of 14,000 travel-related phrases organized by common situational topics you may encounter while abroad; and the FlashCards language-learning application to help you memorize new vocabulary while you play. Together, these applications deliver instant translations, perform quick and easy searches, and supply valuable educational games - instantly turning any Pocket PC device into your own personal language learning and communication assistant.

And full integration means that you can take advantage of familiar and intuitive text-editing functions to copy, cut, and paste between applications effortlessly. One installation file brings you the power of three top-level language applications. These programs are available separately but when purchased singly, functionality is diminished and individual prices are significantly higher.


Check out these great applications here: LingvoSoft Suites 2006 for Pocket PC. (Source: Press Release)
Posted Monday, February 6 2006 by ChrisD
Rating: n/a Comments ()

---
VITO ActiveTrace updated

VITO Technology updates its sports oriented application with GPS navigation. VITO ActiveTrace is specially designed for your outdoor sports activities.

After one month on sale VITO ActiveTrace has already gained popularity among users and has drawn attention of some specialists in this field.

With this application on your Pocket PC or Smartphone you get more satisfaction out of your outdoor activities as it precisely traces your performance and keeps it for further inspection.

VITO ActiveTrace:

° records your tracks
° navigates along the track
° collects the detailed statistics for trips (speed, acceleration, altitude, calories burnt, distance, time, and other)
° displays tracks and stats on-line
° allows to set pushpins
° allows to send your coordinates to friends via sms
° displays your friends coordinates
° is all you need for unforgettable outdoor experience

Check out the feature of coordinates exchange via SMS messages. It's the easiest way to swap whereabouts with your friends outdoors and save time on looking for each other. You can specify the time interval for sending your coordinates. The pushpins indicating your friends' location change their positions together with your friends as you receive new coordinates from them.

New in VITO ActiveTrace v 1.21:

° universal version for WM 5.0 PPCs and Smartphones
° all Smartphones supported
° GPS Scan submenu has been moved directly to Menu
° minor bugs fixed
° more languages: German, Hungarian, French, Spanish, Dutch

VITO Technology ltd. is known for its high-tech products in the field of Pocket PC, Palm, and Symbian software, navigation and custom projects. Introduced in the present article VITO ActiveTrace is a sports oriented program for recording tracks, storing trip statistics, and exchanging coordinates. It's great for any of your outdoor activity. (Source: Press Release)


Posted Monday, February 6 2006 by ChrisD
Rating: n/a Comments ()

---
Copyright 2004-2010 Chris De Herrera, All Rights Reserved
A member of the Talksites Family of Websites
All Trademarks are owned by their respective companies.