Your Source for the latest news and articles about the Pocket PC!
Week of January 4, 2009
Conduits Technologies, Inc. Announces Pocket Player 4.0 for Windows Mobile


NEW YORK, New York - January 5, 2009 - Conduits Technologies, Inc., announced today the release of Pocket Player 4.0, an alternative media player for Windows Mobile 6 Pocket PC and Smartphone. Pocket Player aims to satisfy consumers who demand more from a dynamic media player on a mobile device, and recently won Best Audio at the 2008 Smartphone and Pocket PC Magazine Best Software Awards for its Pocket PC and Smartphone editions.
Pocket Player 4.0 introduces AAC and M4A playback and podcast subscriptions, as well as enhanced MP3 support and other improvements. Pocket Player 4.0 is fully compatible with all Windows Mobile 6.1, Windows Mobile 6, and Windows Mobile 5.0 devices.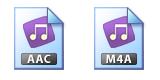 AAC/M4A PLAYBACK
Pocket Player now fully supports AAC/M4A audio playback. AAC is a standardized audio format that allows for lower bitrates and smaller files, and is often "enclosed" in M4A files or stored in raw (ADTS) format. Users can listen to AAC content from various locations, whether the content is stored locally on the device (M4A or AAC/ADTS file), streamed over Universal Plug-and-Play (with the Pocket Player UPnP plugin), or available from a web feed or download link. Pocket Player 4.0 also reads all metadata from the AAC/M4A track, such as album artwork, and will add them to the Pocket Player media browser.
Pocket Player 4.0 supports all versions of AAC playback, including the common AAC-LC format, as well as HE-AAC v1 and HE-AAC v2 (also known as aacPlus and aacPlus v2). The latter is common with web radio streams, which offer high-quality audio at a low-bandwidth rate. While standard MP3 streams usually require 128 Kbps for high-quality playback of CD-quality audio, HE-AAC v2 streams only require 24 Kbps to achieve similiar quality. The media browser features a "Web Guide" screen that loads a directory of Internet radio stations, including those streaming AAC content.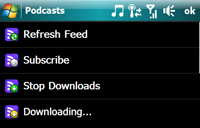 PODCASTS: DOWNLOAD NOW!

When it was released in September 2006, Pocket Player 3.0 (and subsequent versions) featured integrated support for podcasts. Pocket Player will auto-detect any podcasts on the device and categorize them under the media browser's "Podcasts" screen. Using that interface, the user can add podcast feeds and stream a podcast episode directly to their device. However, streaming occurs in "real time," and requires an active Internet connection for the duration of the podcast. Previously, this requirement imposed a limitation to users wanting to listen to podcasts on-the-go, without an Internet connection.

Pocket Player 4.0 now introduces podcast subscriptions with automatic background downloading. By subscribing to a feed, Pocket Player will regularly check the feed for new podcast episodes, and seamlessly download them in the background of Pocket Player, or any other running program. As cellular data rates and plans may entail usage fees, and podcast episode files can be large (one-hour podcasts can run up to 60MB) by default, Pocket Player 4.0 will only download podcasts when connected to AC power and a desktop PC, where ActiveSync (or Windows Mobile Device Center on Windows Vista) can provide bridged networking.

The introduction of M4A support extends to podcasts as well. Many podcasts are delivered in M4A format (due to the bandwidth savings versus MP3, and the popularity of podcasts delivered via Apple iTunes), and Pocket Player 4.0 now supports those feeds. The "Web Guide" in the media browser also features a podcast directory, where popular podcasts can be subscribed to based on their topic.

ENHANCED MP3 SUPPORT

Pocket Player 4.0 now uses the MP3 DirectShow decoder provided by Microsoft on all Windows Mobile devices. This results in less CPU consumption and increased battery life over previous versions. In the process of switching to the new decoder, several potential playback problems with MP3 were found and fixed.

In addition to these features, all known bugs in previous versions of Pocket Player have been fixed. These fixes include myriad stability concerns, streaming issues, and several audio problems when using the crossfade feature in Pocket Player. Finally, AVRCP support on HTC devices has been updated and fixed.

AVAILABILITY

Pocket Player 4.0 for Windows Mobile Pocket PC and Smartphone is available as a free trial from http://www.conduits.com/products/player/ where the user can download and evaluate both products unabridged for 30 days.

UPGRADES

For registered users of Pocket Player 3.X for Windows Mobile Pocket PC and Smartphone from December 1, 2008 to present, the upgrade is free.

Upgrades for customers who purchased Pocket Player 1.X, 2.X and 3.X before December 1 2008, are priced at $9.95 from http://store.conduits.com/popl2up.html. The upgrade is recommended for users who wish to take advantage of newly announced AAC playback and podcast download features.

More information, including a complete list of skins and features, can be found at the Conduits website at http://www.conduits.com/products/player/.

Conduits develops commercial applications for Pocket PC, including Pocket Slides (a fully-featured presentation solution for Pocket PC), Pocket Artist (a drawing and image manipulation program) and seven other Pocket PC products.


Posted Tuesday, January 6 2009 by ChrisD
Rating: 4 Comments ()

---
Motorola Unveils the MOTOSURF A3100 Windows Mobile 6.1 Pro Phone


Motorola today announced the MOTOSURF A3100, a high-speed touch tablet with a fully customizable home screen and running Windows Mobile 6.1 software. Here is more info on this smartphone:

MOTOSURF A3100: Putting the World One "Touch" Away
Motorola has made managing your life whenever, wherever easier with the MOTOSURF A3100, a new, intuitive, customizable and vibrant touch tablet by Motorola. This high-speed, 3G device grants immediate access to content through an impressive personalized icon-based touch screen, helping you achieve the ultimate work-life balance. (Source: Press Release via MobileTechReview)
Posted Tuesday, January 6 2009 by ChrisD
Rating: 2.16 Comments ()

---
Copyright 2004-2010 Chris De Herrera, All Rights Reserved
A member of the Talksites Family of Websites
All Trademarks are owned by their respective companies.