Your Source for the latest news and articles about the Pocket PC!
Week of March 25, 2007
American Chopper's HP Bike Uses Windows Mobile


03/29/07 @ 9:00PM(EST) - HP Bike 1
OCC boots up their latest custom chopper - a computer-themed creation for the HP Corporation. With the build underway, the OCC crew makes a call to the tattoo artists of "Miami Ink" to discuss getting some new tattoos.

04/05/07 @ 9:00PM(EST) - HP Bike 2
OCC continues on their computer themed chopper for the HP Corporation.
With the bike out to paint and chrome, Ami and Chris from Miami Ink settle in and continue their custom body art on Sr. and Beth. As assembly gets underway, illness plagues the shop, taking its toll on both the crew and progress. Sr. heads to the doctor for some back relief. Construction on OCC's new building gets the go ahead and the Teutuls drop in to get things started. At the bike's reveal, the guys struggle with problems when the bike won't start and Sr. narrowly avoids a major mishap. (Source: Orange County Choppers Website)
You will find the HP iPAQ RX5935 Travel Companion GPS running Windows Mobile 5.0 in the gas tank! - ChrisD

Posted Thursday, March 29 2007 by ChrisD
Rating: 1 Comments ()

---
Take Deepfish for a Swim



We are excited to announce public availability of the Deepfish technology preview from Microsoft Live Labs. Deepfish is a new type of mobile information browsing experience, aimed at preserving the rich layout and full form of documents on mobile devices while providing novel ways of effectively navigating that content on small screens. Deepfish's unique interface enables you to zoom in and out of page, quickly getting to the areas you are interested in without screen length after screen length of scrolling. And because the layout is preserved, navigation menus, lists of search results or news headlines, and other elements that might have been bent so thoroughly to fit the usual single column layout that they were no longer legible can now be browsed simply and easily. A consequence of Deepfish's multi-resolution approach to browsing pages is that it loads a thumbnail of pages initially and then only what is needed for more detail when requested or in the background as you browse the initial the view, resulting in substantially quicker load times for most pages.

The preview is available for download now for Windows Mobile 5.0+ devices. There are a limited number of slots available, and they will be distributed on a first come, first serve basis. So, give it a try, and don't forget to let us know what you think about Deepfish.

Sound familiar? Deepfish has surfaced briefly before through videos of an earlier build, but now is the first time you can try Deepfish for yourself. As a technology preview, it is important to note that Deepfish is not a complete implementation of what you would expect of a shipping mobile browser--it does not support cookies or javascript for instance--however, it does provide for a great experience on most sites. We have more information on how to use Deepfish and other details in our overview and FAQ. (Source: Microsoft Live Labs website)


Posted Thursday, March 29 2007 by ChrisD
Rating: 3 Comments ()

---
Symantec To Provide PC-Level Security and Data Protection for Windows Mobile Devices

Symantec Mobile Security Suite 5.0 Will Combine Security and Loss Mitigation Technologies to Protect Sensitive Data and Improve Company Compliance

Symantec Corp. (Nasdaq: SYMC) today announced it will offer Symantec Mobile Security Suite 5.0, a solution designed to provide customers with the same security and data protection capabilities on their Windows Mobile smartphones and PDAs as what has become standard for laptops and other computing devices. Symantec Mobile Security Suite 5.0 will include antivirus, firewall, anti-SMS spam, and data encryption technologies that are easy to deploy, manage and maintain. This kind of layered security can not only mitigate the unique security risks of mobile devices, but can also enable companies to more easily and cost-effectively comply with internal security policies and external regulations.

"The global workforce is becoming increasingly mobile – using a wide range of mobile devices to access personal applications and corporate data over insecure public WiFi and home networks," said Sandra Palumbo, senior analyst at the Yankee Group. "The IT departments tasked with managing and protecting these devices are having a tough time wading through the wide spectrum of individual security products to determine what is needed and what is not. The vendor that can unify these technologies, ensure they interoperate and provide a high level of support and manageability will likely find a significant market with corporate IT buyers."

Yankee Group research indicates that the number of enterprise mobile data users will increase to over 269 million by 2010, representing a 19.8 percent Compound Annual Growth Rate (CAGR). With the increasing number of users connecting their mobile devices to company networks, it is no surprise that malware writers and criminals are looking to take advantage of this unprotected path to sensitive data. Research from Symantec's Global Intelligence Network shows that the number of mobile viruses has almost doubled every six months from 2004 to 2006.

Symantec Mobile Security Suite 5.0 will provide several integrated security technologies for mobile devices, including:
Antivirus – Immediately detects mobile threats and prevents users from accessing an infected file. Administrators can schedule regular virus scans and updates via Symantec LiveUpdate;
Firewall – Controls both inbound and outbound network traffic on the mobile device;
Anti-SMS Spam – Automatically filters and deletes spam messages, or places them in a separate spam folder;
Loss mitigation technologies – Encrypts data on the device and memory cards in case it is lost or stolen. A file activity log helps administrators determine if confidential files have been accessed, and a data wipe tool erases all data after a maximum number of consecutive failed login attempts.
Phone Feature Control – Allows administrators to enable and disable certain device features, such as Bluetooth, WiFi, and device synching. This limits security vulnerabilities and potential attack vectors by only providing access to those features required for business;
Symantec Mobile VPN – This optional add-on enables enterprise customers to connect to corporate networks through secure IPSec VPN tunnels in order to protect sensitive data and interactions;
Network Access Control – When used with the Symantec Mobile VPN, this technology enables IT administrators to ensure only secure, policy-compliant devices can access the corporate network;
Tamper Protection – Verifies that the device's image and security applications have not been tampered with or altered prior to allowing network access;
Enterprise Management – Provides a management console for IT administrators with customizable security policies and reporting.
"Many Symantec customers - IT departments and consumers alike - understand that mobile phones represent the new computing platform," said Paul Miller, managing director of Symantec's mobile security group. "Now that the dual-mode Windows Mobile devices permit users to communicate over both cellular and wireless local networks, more and more users are relying on their phones for their personal and business transactions. These 'pro-sumers' are looking to security leaders like Symantec to help them protect their information and interactions no matter where they reside – whether that's on phones, laptops, or PCs."

The Symantec Mobile Security Suite 5.0 is an integrated solution that addresses the expanding ecosystem of both known and unknown security threats. It also provides added protection for the common problem of lost phones.

Symantec is scheduled to release Norton Mobile Security, a consumer version of its enterprise Mobile Security Suite in the same May 2007 timeframe. Norton Mobile Security will specifically feature firewall, antivirus, anti-SMS spam, password protection and data encryption technologies to address consumers' needs for security and protection of their personal, financial, and other confidential information held on smartphones.

Availability

Symantec Mobile Security Suite 5.0 and Symantec Mobile VPN 2.6, important components of Symantec's Endpoint Security product family and the company's Security 2.0 strategy, are scheduled to be released in North America in May 2007. These products are expected to be available through Symantec's direct sales force, enterprise VAR channel, system integrators and select OEM partners. (Source: Press Release)


Posted Thursday, March 29 2007 by ChrisD
Rating: 3 Comments ()

---
HTC defines mobile computing with introduction of Shift and Advantage



Mobile computers set to deliver ultimate experience by combining innovative designs with powerful functionality and connectivity

Today, at the Cellular Telecommunications & Internet Association's (CTIA) WIRELESS 2007®, High Tech Computer Corp. (TAIEX: 2498; "HTC"), the world's leading provider of Microsoft® Windows Mobile®-based smart devices, announced the expansion of its product portfolio to include two new groundbreaking computing devices that focus on providing users with the definitive mobile computer experience.

The HTC Shift brings the full power of Windows Vista and advanced wireless connectivity into an innovative and compact design that is sure to create a new paradigm for mobile computing. The HTC Advantage delivers extreme portability that leverages the mobile office strengths of Windows Mobile 6 and advanced wireless connectivity in one of the smallest mobile computer designs available.

"The introduction of the HTC Shift and Advantage continue HTC's long history of innovative, precedent-setting devices," said Peter Chou, chief executive officer of HTC. "These new devices bridge the gap between being mobile and being in the office, giving customers new choices for how they work, communicate and live.

With nearly a decade of experience designing and building pioneering smartphones, HTC is extending its mobile convergence leadership into a new mobile computing category created by the introduction of the HTC Shift and HTC Advantage. The company is now doing for mobile computing what it did for mobile phones, adding powerful functionality and advanced connectivity in compact and innovative designs.
HTC Shift
Unveiled at CTIA, the HTC Shift combines the power of Windows Vista with an innovative QWERTY-based keyboard design and 3G-connectivity. The days of compromising productivity for portability are gone. The HTC Shift provides all the power, functionality and connectivity the busy professional needs in a sleek design that is half the size and a fraction of the weight of what they lug around today. Similar in size to a couple of DVD cases, the HTC Shift comes with Windows Vista Business, includes a brilliant 7-inch widescreen touch display and a 30-gigabyte hard drive. Packed with advanced connectivity, the HTC Shift features high-speed global connectivity with Tri-Band UMTS/HSDPA, Quad-Band GSM/GPRS/EDGE, Bluetooth 2.0 and Wi-Fi. A multimedia maven, the HTC Shift leverages Windows Media Player 11 to provide easy access to music, videos and photos.

"The HTC Shift is combining the power of Windows Vista with advanced connectivity in a sleek mobile computer design," said Bill Mitchell, corporate vice president of Microsoft's Windows Mobile Platforms Division. "HTC and Microsoft have been innovating on smartphones for years, so it is exciting to see them bring that experience and innovation to mobile computers."
HTC Advantage
Developed from the ground up to be extremely portable, the HTC Advantage liberates the traveling executive from their bulky notebook PC. The HTC Advantage packs powerful productivity features into a unique and innovative design that is small enough to slip into a jacket pocket or purse. Based on Microsoft Windows Mobile 6, the HTC Advantage includes Microsoft Office Outlook Mobile for quick access to email, calendar and contacts and Microsoft Office Mobile enabling the creation and editing of Microsoft Office documents. The HTC Advantage includes a thin, magnetically connected QWERTY keyboard and advanced connectivity with Tri-Band UMTS/HSDPA, Quad-Band GSM/GPRS/EDGE, Bluetooth 2.0 and Wi-Fi. In addition, the HTC Advantage enables powerful navigation capabilities with built-in GPS navigation. Other features include:
5-inch VGA touch display
HDD 8GB, ROM 256MB, RAM 128MB
miniSD™ card slot
HTC VueFLO™ for easy navigation
3.5mm Stereo audio jack
Pricing and Availability
The HTC Advantage will be available through Amazon.com and other retailers this summer. The HTC Shift will be available in the US and Europe in Q3 2007. Additional details, including specifications, pricing and availability will be announced when available. (Source: Press Release)


Posted Wednesday, March 28 2007 by ChrisD
Rating: 3 Comments ()

---
The Big News: Phone Dashboard 2.0 Released!



We know it has been a while, but Hudson Mobile is very pleased to announce the availability of Phone Dashboard 2.0, the leading utility for Windows Mobile-based phones.

Phone Dashboard helps save you money because it keeps you from going over your monthly minutes. Phone Dashboard also saves you time by allowing you to easily view, sort and export your calling history for expense tracking.

A recent review in Pocket PC Magazine called Phone Dashboard "darn near perfect"
and we think you'll agree!
Phone Dashboard allows you to:
Keep track of your phone and text message usage at a glance on your Today Screen
Configure alerts based on your cell phone plan so you are warned of potential overage charges
Simplify expense tracking by exporting your phone's call log to a spreadsheet
Easily review your past call history through graphs and a flexible call log
Check the current network status and signal strength
See if you are headed for a large monthly bill with projected usage statistics
With release 2.0, we extend Phone Dashboard to track SMS and MMS message usage as well as call usage - a feature that has been in popular demand. Other new features include more options to customize your phone plans including flexible weekends and call rounding, and improved logging, usability and performance. Now more than ever, Phone Dashboard gives you a complete picture of your phone usage.

For a limited time, Phone Dashboard 2.0 is available at a 25% discount from the already low retail price of $14.99. Just put Phone Dashboard in your cart on Handango (link here) and enter promotional code 88ABC493.

If you are a current, registered user of Phone Dashboard, the upgrade can be downloaded for free and your existing registration code will continue to work. (instructions here) We recommend that all users upgrade to the latest software version.

If you are a user of IP Dashboard, and have since purchased a Windows Mobile phone, now is a great time to trial Phone Dashboard. You can download a risk-free trial of Phone Dashboard here.

We'd like to thank all of our reviewers and loyal users for the wonderful feedback we've received on Phone Dashboard. Please keep your suggestions and product ideas coming! (Source: Press Release)


Posted Wednesday, March 28 2007 by ChrisD
Rating: 3 Comments ()

---
Green technology strategy



Even when Dee is out and about, his reliance on paper is zero.

"I have a Pocket PC phone which allows me, when I take a call, to write in my own handwriting the name and phone number and anything to do with that conversation into the phone." (Source: Stephen Fenech, couriermail.com.au)


Posted Tuesday, March 27 2007 by ChrisD
Rating: 4 Comments ()

---
Microsoft Webcast: How Microsoft IT Delivers Mobility Solutions to Microsoft Employees (Level 200)



Audience(s): Business Decision Maker.
Duration: 60 Minutes
Start Date: Thursday, April 26, 2007 11:00 AM Pacific Time (US & Canada)

Event Overview

Since Windows CE emerged in the 1990s, Microsoft employees have continuously adopted and improved the Windows Mobile platforms. Currently, 75 percent of Microsoft employees use Windows Mobile powered devices to speed the pace of their business and information workflow. Since the humble beginnings of Windows CE version 1.0, Microsoft IT has supported employee use of the technology and has run the primary Windows Mobile internal beta programs. Join this webcast as we outline:
Microsoft IT operational disciplines of device standardization.
Windows Mobile and Microsoft Exchange Server application service extensions.
Market procurement strategies and future service expansion objectives.
(Source: Microsoft Website)





Posted Tuesday, March 27 2007 by ChrisD
Rating: 2 Comments ()

---
Tool Turns Any JavaScript-Enabled Browser into a Malicious Drone



The tool, called Jikto, is a Web application scanner that searches for cross-site scripting vulnerabilities. Billy Hoffman, a security researcher with SPI Dynamics, demonstrated what the tool could do at the ShmooCon hacker convention March 24. Namely, Jikto, which is written in JavaScript, can surreptitiously latch onto a browser that has JavaScript enabled.

fter silently inserting itself to run inside any browser—be it that of a PC, a cell phone—Jikto can then search sites for cross-site scripting vulnerabilities and report its findings to a third party without the user of the infected browser being aware.

It can also replicate itself onto sites containing cross-site scripting vulnerabilities and then spread via latching onto visiting browsers, Hoffman told eWEEK in an interview. (Source: Lisa Vaas, eWeek)
Is Windows Mobile 6 Vulnerable? I hope that it is not vulnerable however since Microsoft added Asynchronous JavaScript and XML (AJAX) I want to see this tested. - ChrisD.


Posted Tuesday, March 27 2007 by ChrisD
Rating: n/a Comments ()

---
Palm Announces Update to Windows Mobile 6 Coming for Treo 750 Smartphone



AT&T Customers Also Gain Access to Faster Speeds with HSDPA Capability

ORLANDO, Fla., CTIA Wireless Show, March 27, 2007 -- Palm, Inc. (Nasdaq: PALM) today announced that an update to the Windows Mobile 6 Professional operating system will be available for Treo(TM) 750 smartphone customers around the world. The Treo 750 is available from carriers in the United States, Europe and Asia and remains a key part of Palm's international expansion strategy to make Treo smartphones available to more customers. For AT&T customers, the update also will facilitate High-speed Downlink Packet Access (HSDPA) capability – allowing faster data-download speeds on 3G/UMTS/HSDPA networks.(1)

"Palm continues to work closely with Microsoft to maximize the benefits of Windows Mobile and to deliver the best mobile experience to Treo customers," said Joe Fabris, director of wireless solutions at Palm, Inc. "Our hallmark Palm experience combined with the benefits of Windows Mobile 6 on the Treo 750 will continue to deliver a great productivity tool for businesses across the country and around the world."

The Treo 750 is a five-band world phone that combines a great phone with email, messaging, web browsing and organization software.(2) Because the Treo 750 is based on GSM radio technology that is widely available around the world, it is a natural fit for multinational businesses or employees who travel internationally. The flexibility of the Treo 750 combined with Windows Mobile 6 will help the Treo 750 continue to build on its momentum in the business market.

Windows Mobile 6 paired with Exchange Server 2007 will deliver email enhancements such as HTML-formatted email messages, the ability to set an out-of-office message remotely, and live links to Microsoft SharePoint documents. Also, the Treo's color touch screen makes line-of-business applications easier than ever and allows users to take full advantage of new mobile versions of Microsoft Office Outlook, Office Word, Office Excel and Office PowerPoint. Microsoft's Direct Push Technology continues to be available out of the box, giving Exchange users fast, automatic wireless updates of their email, calendar items, contacts and tasks without additional third-party software or fees.(2)

"Windows Mobile delivers to the small screen a rich and familiar experience that meets people's work and life needs while on the go—all with a single device," said Chris Hill, group product manager, Microsoft Corp. "We are excited to work closely with Palm to offer a Windows Mobile 6 update to existing Treo 750 users so that they can take advantage of new and enhanced productivity and advanced communication capabilities."

Palm's Windows Mobile update for the Treo 750 will be available later this year. More information on the Palm Treo 750 smartphone is available at http://www.palm.com/us/products/smartphones/treo750/. (Source: Press Release)


Posted Tuesday, March 27 2007 by ChrisD
Rating: n/a Comments ()

---
Palm Furthers Initiative for a Hands-free, Fashionable Lifestyle with New Accessories



Palm Showcases a Variety of New Accessories at CTIA, Including Hands-free Car Kits, GPS and Cases

Reaffirming its position as a leader in mobile technology, Palm, Inc. (Nasdaq: PALM) today announced the newest additions to its line of hands-free accessories, including three car kits and a new combination GPS/hands-free speakerphone solution available for a variety of Palm® Treo(TM) smartphones. These accessories further Palm's initiative to provide customers with tools to make their mobile experience simple and safer, especially while driving.

Approximately 25 percent of accidents in the United States are caused by driver distraction (1), which includes cell phones and other handheld devices. Five states, including New York, California and Washington, D.C., are currently enforcing, or intending to in the near future, a ban on the use of cell phones without hands-free features while driving. Six other states, including Michigan, New Mexico and Ohio, have the same law in place for certain jurisdictions.

In August 2006, Palm announced it would support the California bill and believes the bill responsibly addresses evidence that wireless-phone use increases the risk of accidents. As the first handset company to support the California bill, Palm felt that its passage could be instrumental in leading other states to follow suit and improve driving safety.

Available immediately are a number of hands-free, installation car kits for use with a variety of Palm Treo smartphones. These kits offer clear voice performance and such functions as Auto Answer. In states that have hands-free laws, these car kits also meet the legal standards for use while driving, and the professionally installed cradle holds the Treo smartphone securely in place.

· The Comfort Plus DSP Hands-free Car Kit: An affordable option for Treo 680 and Treo 750 customers, this kit has an estimated U.S. street price of $199.

· The Take&Talk DSP Cradle + CarTalk Hands-free Car Kit: This kit enables Treo 680 and Treo 750 users to enjoy many functions, including DSP (Digital Signal Processing) technology, which cuts noise and echo for clear voice performance, and an extended antenna for greater network sensitivity. This product has an estimated U.S. street price of $259.

· Take&Talk DSP Hands-free Car Kit Cradle: This product is for existing THB Bury UNI System 8 car kit users who are ready to switch over to a Treo 650 or Treo 700 series smartphone. This product has an estimated U.S. street price of $149.

Palm also announced the GPS Navigator Car Kit, which includes an integrated GPS and a hands-free speakerphone. Treo 680 and Treo 700p smartphone customers can get voice-guided, turn-by-turn directions, or keep in touch with friends and family, all the while keeping their eyes on the road and their hands on the wheel. With this simple-to-use device, users just pop in a 1GB memory card preinstalled with a map of the continental United States and Canada to launch TomTom NAVIGATOR. The estimated U.S. street price is $299.(2)

"Palm is committed to accessorizing Treo smartphones with technologies that promote a hands-free and safer lifestyle," said Jim Schwabe, senior director for handhelds and accessories at Palm. "Palm creates its accessories so that they are both functional and fashionable, appealing to Treo users around the world."

Palm will also have available new cases to dress up and protect customers' Treo smartphones:

· Treo Air Case and Holster – Compatible with Treo 680 and Treo 750 smartphones, this case is strong yet lightweight, and practically invisible. It is made of durable polycarbonate and is sleek, smooth and strong. It can be used alone to protect the Treo smartphone or with the holster for easy access. This product has an estimated U.S. street price of $25.

· Vaja Classic Pouch – Compatible with Treo 680 and Treo 750 smartphones, these stylish cases come in a variety of colors, have magnetic snap closure and slots for SD and Mini SD cards. The Vaja cases are made of full-grain Argentine leather. Pricing starts at $65.

· eNOVO by EB –This top-loading case was crafted especially to hug the contours of the Treo 680 and Treo 750 smartphones to provide sleek, semi-rigid protection. It is made from supersoft, fine-grain leather, and the removable cover and belt-clip system give customers multiple options for use. (Source: Press Release)


Posted Tuesday, March 27 2007 by ChrisD
Rating: n/a Comments ()

---
Announcing Notepad Mobile 2007

Orneta's Notepad Mobile 2007 by Orneta enables Outlook 2007 Text Notes and Voice Notes Synchronization between Windows Vista and Windows Mobile 6 Standard and Windows Mobile 5.0 Smartphone via Windows Mobile Device Center 6 (32-bit and 64-bit) and Microsoft ActiveSync.
Simple - Simple installation and easy to use user interface
MarkEdit - Cut, Copy, and Paste without using touch-screen
WordMark - Select and de-select full words with a single button
Voice Notes - Audio Notes can be played with Desktop Outlook
Integrated - Multi-State icon's, on device help file, sync logging
Compatible - Macintosh OSX and Linux support via Pocket PC Sync
QWERTY - Motorola Q, Samsung Blackjack, T-Mobile Dash, Palm Treo
Aware - Theme, orientation, and resolution awareness pioneered by Orneta
Ready -Takes full advantage of the compelling features of Windows Mobile 6
Unified - Beam Notes to the standard Pocket PC Notes application
The new version, priced at a low $14.99 with a free 14 day trial, is available @ http://www.orneta.com/products/notepad/

Already Own Notepad Mobile?

We have decided to release the new version with a free upgrade for current owners. To upgrade, simply download and install the new version, and use your previous serial number.

Don't Have Windows Mobile 6?

Notepad Mobile 2007 provides full support for Windows Mobile 5.0. Unsupported Windows Mobile 2003 and Smartphone 2002 editions are available from the archives section @ http://www.orneta.com/products/notepad/download/archive/ (Source: Press Release)


Posted Monday, March 26 2007 by ChrisD
Rating: n/a Comments ()

---
Conduits Technologies, Inc. Releases Timekeeper 2.1, Pocket Launcher 3.1, Pocket Player 3.2 for Windows Mobile 6 Standard and Professional, and Pocket Slides 2.51 for Windows Mobile 6 Professional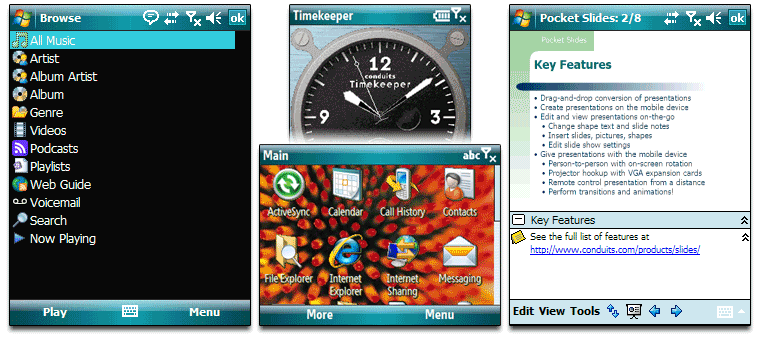 Pictured, clockwise from left: Pocket Player screenshot showing new Voicemail plugin; Timekeeper for Windows Mobile 6 Standard; Pocket Slides for Windows Mobile 6 Professional;, Pocket Launcher on WM6 Standard with keyboard quick search support.

NEW YORK, NEW YORK, March 26, 2007 -- Conduits Technologies, Inc. announced today the release of Timekeeper 2.1, Pocket Launcher 3.1 and Pocket Player 3.2 for Windows Mobile 6 Standard and Professional devices, and Pocket Slides 2.51 for Windows Mobile 6 Professional devices. Timekeeper, Pocket Launcher and Pocket Player also function on all Windows Mobile 5 Smartphone and Pocket PC devices, and previous
2003 models. Pocket Slides is compatible with Windows Mobile 5 Pocket PC devices, and previous 2003 models.

POCKET PLAYER 3.2

Pocket Player 3.2 for Windows Mobile 6 Standard and Professional devices aims to satisfy consumers who demand more from a media player on a mobile device. Version 3.2 introduces new usability features and fixes, new plugins and plugin improvements.

Usability Improvements

Pocket Player 3.2 sports several new features to improve usability. Library speed and stability has improved. Various fixes with streaming, including password support, Orb.com support, and performance have been implemented. The user can now select multiple files to open/enqueue easily. All known bugs and issues, such as those with 48KHz playback, bookmarking accuracy, phone interaction, and PlaysForSure playback have been resolved.

Voicemail

Pocket Player 3.2 introduces a voicemail plugin that enables integrated Inbox WAV attachment playback to the software. Many phone systems offer email-based voicemail delivery in the form of a WAV file attachment to a small message. Windows Mobile devices have the ability to receive these messages, but playback has traditionally been buggy and on most devices, will not play the messages properly. Pocket Player can play these WAV attachments, and the new "gen_voicemail" plugin adds a "Voicemail" item to the Pocket Player Browser. This plugin will scan all the messages in your Inbox (or other folders) for ones with a WAV attachment, displays the date and time received, the subject of the message (which usually includes the phone number that called the user), play the messages in random order, and can seek within the message. The plugin goes one step further by parsing the phone number out of the voicemail text, adding a "Call Number" command to the Pocket Player main menu. This gives the user a seamless experience with their voicemails and Pocket Player.

Plugins Updated: UPnP, WMHost

Pocket Player's UPnP plugin has been improved, and now supports additional UPnP servers such as Windows Media Player 11, Orb, and others. For users with a large quantity of media on their servers, the plugin now features paginated results. Device-to-device streaming is now a feature of the plugin: over WiFi users can stream from Pocket Player to another device running Pocket Player or other UPnP-capable software.

The WMHost plugin has also been updated and improved. The plugin now boasts support for devices with external displays, such as the HTC StrTrk (Cingular 3125). Track information and playback controls now work on that device and similar configurations. Other system plugins that look for media players are also supported, such as the Samsung Media home screen plugin for the BlackJack. Media information and playback controls work properly. Finally, A2DP/AVRCP support is improved and updated, and Bluetooth buttons can now be mapped to fast forward or rewind functions.

TIMEKEEPER 2.1

Timekeeper 2.1 for Windows Mobile 6 Standard and Professional devices is a customizable high precision multi-function stopwatch with session tracking and data export capabilities.

Usability Improvements

Timekeeper 2.1 now features timers that keep counting after you exit the program. Once your set time is up, you will still be notified. In other words, set it and forget it! The new release also marks the ability to keep your device backlight on when still using the product.

POCKET LAUNCHER 3.1

Pocket Launcher 3.1 for Windows Mobile 6 Standard and Professional devices is a customizable application launcher that improves upon the device's built-in program launcher with a tab-based categorization system that is expandable to a user's needs, and adaptable to a user's tastes.

Device/Hardware Compatibility

Pocket Launcher 3.1 now supports the popular BlackJack scroll wheel, allowing navigation through your icons one-by-one with the flick of your thumb.

New Tabbing Features

Pocket Launcher 3.1 will now update colors based on device's today theme. In other words, Pocket Launcher will always match whatever color scheme you have. Additionally, the new version allows for easier management of tab icons and backgrounds.

POCKET SLIDES 2.51

Pocket Slides 2.51 for Windows Mobile 6 Professional enables users to create, edit, view and give presentations on a mobile device.

Usability Improvements

Pocket Slides 2.51 sports a vastly improved German translation. All previous issues with the German version of Pocket Slides 2.X have been resolved. Pocket Slides 2.51 is now fully PowerPoint 2007 compatible. You can now convert presentations created in all versions of PowerPoint, from 97 to 2007, edit them on the device, and convert back to your desktop. All known bugs related to the conversion process have been fixed for this release.

AVAILABILITY

Timekeeper 2.1, Pocket Launcher 3.1, Pocket Slides 2.51 and Pocket Player 3.2 are available as 30-day commercial demos from http://www.conduits.com, where the user can download and evaluate each software.

Users can purchase the products at http://store.conduits.com. Bulk, corporate, and educational discounts are available. Please email [email protected] for more information.

UPGRADE INFORMATION

Timekeeper 2.1

For registered users of Timekeeper 1.X for Pocket PC from January 2006 to present, the upgrade is free. Upgrades for customers who purchased Timekeeper 1.X before January 1 2006, are priced at $4.95 from http://store.conduits.com/ti2up.html.

Pocket Player 3.2

For registered users of Pocket Player 2.X for Windows Mobile Pocket PC and Smartphone from September 2005 to present, the upgrade is free. Upgrades for customers who purchased Pocket Player 1.X and 2.X before September 1st 2005, are priced at $9.95 from http://store.conduits.com/popl2up.html.

Pocket Launcher 3.1

Upgrades are priced at $3.95 for customers who purchased Pocket Launcher before January 1, 2006, from http://store.conduits.com/pola2up.html.

Pocket Slides 2.51

Upgrades to Pocket Slides 2.X for customers who purchased Pocket Slides 1.X before April 1st 2004, are priced at $19.95 from http://store.conduits.com/posl2up.html. (Source: Press Release)


Posted Monday, March 26 2007 by ChrisD
Rating: 3.5
---
IntelliGolf version 8.2 Ships for Pocket PCs, Windows Mobile and Java-based Smartphones, Palm and Treo handhelds, and Windows Vista-based PCs



Cameron Park, CA, March 26, 2007 - Karrier Communications, leaders in 'Sports Enhancing Software', today announced the shipment of its new IntelliGolf® version 8.2 software for Microsoft (NASDAQ: MSFT) Windows Mobile-based Pocket PCs and Smartphones, Palm (NASDAQ: PALM) and Treo handhelds, Java-based smartphones (e.g. Sony Ericsson, Nokia, etc), and Microsoft Windows Vista-based PCs. IntelliGolf is the #1 selling "Golf Scoring and GPS Software" in 125+ countries worldwide. IntelliGolf is immediately available from www.intelligolf.com/estore.asp SRP: $29.95-$59.95.

IntelliGolf version 8.2 is compatible with Microsoft's new Vista operating systems, adds the ability to keep the golfer's GPS connect alive when transitioning between screens (i.e. speeding up play), RCGA posting display, IntelliGPS® course designator, and continued free access to over 23,000 digital course scorecards for IntelliGolf version 8.x customers. For more information on these new features please see www.intelligolf.com/features_v8.asp

Product Overview
The IntelliGolf software replaces pencil and paper golf scoring, wagering, and statistics gathering on the golf course. Users enter their scores, wagers, and club selection on their handheld. IntelliGolf totals all scores, tabulates all wagers, and synchronizes with the included Windows desktop software. From the IntelliGolf desktop software users can view performance graphs and statistics, approximate their handicap, and evaluate their Dream Round™.

IntelliGolf is the only golf software to include all seven S's of golf: Scoring, Shot tracking, Satellite GPS, Sharing, Sidegames (35+), Statistics (250+), and Signature course (23,000+) scorecards. IntelliGolf is compatible with industry-leading GPS receivers (see http://www.intelligolf.com/intelliGpsCert.asp) via Bluetooth, SDIO, Compact Flash, and embedded GPS connections.

Company and Product Information. More press information, screen shots, and the IntelliGolf Reviewers Guide can be found at www.intelligolf.com/press.html. More product information can be found at www.intelligolf.com/products.asp. Current customers can upgrade to IntelliGolf Eagle via www.intelligolf.com/upgradeExistingCustomers.asp. (Source: Press Release)


Posted Monday, March 26 2007 by ChrisD
Rating: n/a
---
Phatware Announces CalliGrapher 8.5



Support for Windows Mobile 6.0 allows for improvement on award-winning CalliGrapher application

MOUNTAIN VIEW, CA March 26, 2007 - PhatWare Corporation, a leading provider of software products and professional services for mobile and desktop computers, announces the release of CalliGrapher 8.5. The award-winning handwriting recognition software for Windows-Mobile devices includes a Write Pad SIP and is now optimized to support Windows Mobile 6.0, including full-VGA and Square QVGA square screen devices.

Named the best software for handwriting recognition for Microsoft Windows Mobile based Pocket PCs by industry experts for five consecutive years, CalliGrapher analyzes pen strokes written in any application window or in the designated Write Pad area, then converts those pen strokes into text and sends the recognized text to the target application. Employing advanced fuzzy logic and neural net techniques, CalliGrapher recognizes arbitrary alphanumeric strings, as well as words contained in its integrated dictionary.

To address the customer's needs in a fast-growing market of phone-enabled Pocket PC devices, the new version of CalliGrapher supports new screen resolution and improved inking capabilities introduced in the new version of the operating system. Calligrapher 8.5 has also been enhanced to include new icons, updated help and documentation.

"PhatWare is excited about the recent improvements made to CalliGrapher," said PhatWare president Stan Miasnikov. "Our continuous upgrades will continue to improve the user experience. Our goal is always to provide our customers with the best."

CalliGrapher 8.5 has additional performance improvements. The software supports devices running on any Windows Mobile based Pocket PC or Smartphone equipped with a touch screen. CalliGrapher 8.5 can be purchased from the PhatWare Web site for $39.95 and is a free upgrade for registered users of CalliGrapher 8.0 or later. Owners of older versions can upgrade to CalliGrapher 8.3 for $24.95. For a limited time only, PhatWare offers additional $10 discount for new and existing CalliGrapher users. For more information about CalliGrapher or other PhatWare products, visit www.phatware.com. (Source: Press Release)


Posted Monday, March 26 2007 by ChrisD
Rating: 4
---
Copyright 2004-2010 Chris De Herrera, All Rights Reserved
A member of the Talksites Family of Websites
All Trademarks are owned by their respective companies.