Your Source for the latest news and articles about the Pocket PC!
Week of September 23, 2007
Whitepaper: Architectural Overview of Windows Mobile



This white paper describes how mobile devices running Windows Mobile 5.0 or Windows Mobile 6 are fully integrated into Microsoft's server infrastructure, how the components fit together, and the fundamental design requirements that will help secure and manage mobile devices. The following infrastructure components and their interrelationships are discussed: Exchange Server 2003 and 2007, Exchange ActiveSync, Internet Security and Acceleration Server 2004 and 2006, Microsoft Dynamics Platform, Small Business Server 2003, Microsoft Operations Manager (MOM) 2005 and Systems Center Operations Manager (SCOM) 2007, Systems Management Server (SMS) 2003 and Systems Center Configuration Manager 2007, Microsoft Office SharePoint Server 2007 and Live Communications Server 2005. (Source: Microsoft)


Posted Thursday, September 27 2007 by ChrisD
Rating: 3 Comments ()

---
UPDATE: Microsoft releases Office Mobile 6.1 for Windows Mobile 6



Microsoft just released an Office Mobile 6.1 update as a free download, which is an upgrade to Office Mobile applications on Windows Mobile 6 Classic, Professional and Standard PDAs and smartphones. Office Mobile 6.1 now supports the new Office 2007 file formats.

Microsoft Office 2007 introduced new Open XML-based file formats for Office applications. These new file formats reduce file size, improve security and reliability and enhance integration with external sources. (Source: Arne Hess, the::unwired) Download from Microsoft


Posted Thursday, September 27 2007 by ChrisD
Rating: 2.8 Comments ()

---
Enterprise Mobility Assessment

One of the things that the enterprise should do is assess their direction and support for technology. I created the Enterprise Mobility Assessment to help companies measure the level of effort and commitment to mobility. The assessment is general for all types of mobility from PDAs and Ultra-Mobile PCs to Notebook PCs. (Source: Chris De Herrera, Pocket PC FAQ)
Posted Monday, September 24 2007 by ChrisD
Rating: 2.5 Comments ()

---
Resco Announces Resco Explorer 2007



Bratislava, Slovakia (MobilityNewswire/PRWeb) September 24, 2007 -- Resco, one of the leading software developers, announced today the availability of the new version of the best selling file explorer on the mobile market — Resco Explorer 2007.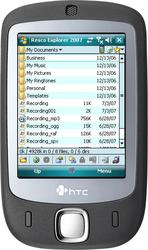 Resco Explorer 2007 for smartphone and pocketpc platforms keens on aspects that made it so popular amongst users while adding many new features that will certainly be appreciated. One of the most highlighted new functions is the FTP client for smartphone version and support of decompressing RAR archives in both versions.

Besides the FTP client and support of RAR archives, new features in Resco Explorer 2007 for smartphone and pocketpc platform contain but are not limited to the:

Full support of wm6.0
File decryption in memory
Customizable keyboard shortcuts
Speed measuring for copying/moving/beaming
Multi-language version (En/De/Es/Fr)
Advanced multi-select mode
Customizable startup folder

"Resco Explorer wins our Pocket PC Best Software Awards File Manager category year after year after year, and with each upgrade it just gets better. I expect no less from the Smartphone version."
Hal Goldstein, Executive Editor,
Smartphone & Pocket PC magazine

"I have been using Resco Explorer for a long time and am always excited when the guys at Resco release an updated version. They continue to add many new features to the program and the software remains fast and very intuitive. I strongly recommend Resco Explorer to be the first thing users install on their device."
Dustee L. Hatra

Availability
The latest version can be found at:


Who is Dustee Lee Hatra according to his own words:
An IT manager and a Smartphone enthusiastic from Beatrice, Nebraska in one person, who loves to travel and test software. (Source: Press Release)
Posted Monday, September 24 2007 by ChrisD
Rating: 2.33 Comments ()

---
Copyright 2004-2010 Chris De Herrera, All Rights Reserved
A member of the Talksites Family of Websites
All Trademarks are owned by their respective companies.