Your Source for the latest news and articles about the Pocket PC!
Week of August 20, 2006
Announcing Battery Pack Pro v3 & 1-Calc v3 from Omega One



Omega One, a leading provider of utility applications for Pocket PC, Smartphone and BlackBerry devices is pleased to announce major new versions of two of it's most popular products - Battery Pack Pro and 1-Calc for Pocket PC.
The ultimate utility product for the Pocket PC, Battery Pack Pro was the #1 selling Pocket PC application for two straight years. v3 adds more features to make it truly "The Only Utility You Will Ever Need".

Calendar Bar - new today plug-in to see up to 50 next appointments with a quick tap, or tap to display a calendar view to plan your month.
Search Bar - new today plug-in to quickly search the web, show a web page, get an address, telephone number or business listing, or driving directions right from your today screen.
Power Start - new feature to launch your own custom programs from the start button without having to use the stylus. Just tap the big app icons with your finger to launch programs quickly.
Program Bar - new tab UI design to organize icons quickly & easily. Program Bar saves valuable screen real estate by varying it's height automatically based on which icons are being viewed, and by being able to "host" other today plug-ins as tabs.
Power Bars - have been expanded to show not just battery information but also memory, storage card, time, date & time until the next appointment. Information such as the next appointment or a low battery will automatically show to warn you of such events.
Battery Bar - New slimmer UI design to save on screen space without compromising information.
Power Task - Will now automatically close programs after several minutes of activity to save system memory.
1-Calc has been the #1 selling calculator for the Pocket PC since its release in 2004, and v3 takes the product to a whole new level:
Financial calculator features.
Statistical calculator features.
Graphing calculator features.
Works faster, with a cool new UI.
With the addition of the financial, statistical and graphing features (bringing this $30 product on par with $150 calculators), 1-Calc can truly be called "The Only Calculator You Will Ever Need".

For more information, see www.1calc.com, or www.omegaone.com.

Omega One has several leading applications for the Smartphone and Pocket PC including Battery Pack Pro, the number 1 selling Pocket PC application for two straight years. Omega One's other top selling products Journal Bar, an Internet content viewer, 1-Calc, a universal calculator, and 1-Pass, a physical security application have all been the top selling products in their categories since release. Battery Pack Pro and 1-Calc are also available for Smartphones too, as well as a great game bundle 1-GameBag. (Source: Press Release)


Posted Thursday, August 24 2006 by ChrisD
Rating: 4 Comments ()

---
Enjoy a Night Out with ZAGAT TO GO


ZAGAT TO GO for Windows Mobile Pocket PC - Save 25%

ZAGAT TO GO was already the most comprehensive restaurant and entertainment guide for your Windows Mobile device. Now it's even more useful with Lifestyle Guides for Movies, Golf, and NYC Shopping. With regular, automated content updates (NEW!) offering the freshest reviews you'll always be "in the know" when you're "on the go."
(Source: Press Release)
Posted Thursday, August 24 2006 by ChrisD
Rating: n/a Comments ()

---
BoxWave's Mio P350 Armor Case™



BoxWave's Armor Case™ form-fitting, trendy aluminum case that is designed to fit your Mio P350 perfectly! Its exterior is made of anodized aluminum that is strong yet lightweight while the interior is padded with a layer of foam for optimal security. While Armor Case™ works to protect your Mio P350 from everyday wear and tear, its accessible openings give quick access to display, headphone jack, and center button functions.

Better yet, Armor Case™ for the Mio P350 includes a high quality, simple-to-use, detachable belt clip.

Check it out here: BoxWave's Mio P350 Armor Case™ (Source: Press Release)


Posted Thursday, August 24 2006 by ChrisD
Rating: n/a Comments ()

---
Adisasta Software launches WinMobile Lens Pro version 2



Adisasta Software announced WinMobile Lens Pro version 2, state-of-art virtual magnifying lens application for Windows Mobile Pocket PC.

WinMobile Lens Pro grasps your device's real time screen at the moment it is activated, and allows you to zoom in any part of the captured screen using pre-defined shapes. The magnified screen can then be scrolled around by dragging the stylus or move around using the navigation keys. By default, releasing the stylus will immediately close the application, but you can set the auto exit feature off which enables you to have more control of the magnified area. Besides shapes, the magnified screen can also be customized to various sizes and zoom factors. You can magnify a spot in your device's screen into a stretched area with actual or smooth interpolated-bilinear pixels.

New in version 2 includes a variety of background manipulation functions such as vertical flip, mirror, normalize, equalize, sharpen etc. and support for VGA high resolution screen. Also in this version, WinMobile Lens Pro supports customizable screen control.

WinMobile Lens Pro works with any application. You can start the application from the accompanying launcher or associated hardware button.

With WinMobile Lens Pro, you can also capture foreground or background screen and save it into your storage memory.

WinMobile Lens Pro is available for Windows Mobile PPC/PPC phone edition running WM2003/SE or WM 5.0.

WinMobile Lens Pro is now available at the product's Web site, http://www.adisasta.com/wmLensPro.html or through Handango.com, 14 days time limited shareware version can be downloaded here. (Source: Press Release)


Posted Wednesday, August 23 2006 by ChrisD
Rating: n/a Comments ()

---
Vsbenchmark 2006 v1.15 new version available



Virtual Spaghetti has the pleasure to announce the new version of our enhanced graphic benchmark Vsbenchmark 2006 for Pocket PC & Smartphone QVGA

This new version have more compatibilities and support more devices.

Vsbenchmark 2006 is a free graphic benchmark that test your graphic performance device and compare it with other models. Vsbenchmark boost the limit of the classic 2D graphics with the last visual effect technologies.

You can send or compare your results in our new database with more than 130 models available here :

http://vsbench.virtualspaghetti.com

The benchmark is available for free at this following adresse:

http://vsbench.virtualspaghetti.com/VSBenchmark2006v115Setup.exe (Source: Press Release)


Posted Wednesday, August 23 2006 by ChrisD
Rating: 5 Comments ()

---
LingvoSoft Full Text Translators 2006 for Pocket PC released!



Always on the cutting-edge of practical software development for virtually every platform, LingvoSoft has done it again by announcing the release of the all-new LingvoSoft Full Text Translators 2006 Available to translate between English and French, Spanish, German, Italian and Portuguese - the team of linguists and developers responsible have outdone themselves once again.

Not only does the new kid on the block deliver instant, accurate and comprehensible translations of business letters, emails and much more - but it does so in an extremely comfortable environment.

Featuring the latest innovations it really does go the extra distance to make life easier in whatever language you choose. The LingvoSoft team seems to know just how valuable its customer's time and energy are and so have done everything to make using a second language second nature. Anyone who checks out the revolutionary new LingvoSoft Translators 2006 will be sure to agree – a real winner has arrived.

Learn all about the LingvoSoft Translators 2006 here:

LingvoSoft Translator 2006 English <-> French for Pocket PC
LingvoSoft Translator 2006 English <-> German for Pocket PC
LingvoSoft Translator 2006 English <-> Italian for Pocket PC
LingvoSoft Translator 2006 English <-> Portuguese for Pocket PC
LingvoSoft Translator 2006 English <-> Spanish for Pocket (Source: Press Release)


Posted Wednesday, August 23 2006 by ChrisD
Rating: n/a Comments ()

---
Replacement Stylus for Pocket PCs!



BoxWave releases the Replacement Stylus for Pocket PCs! Ever experience a time when your stylus was lost or missing? Because BoxWave's Replacement Styus is designed to fit in your handheld's built-in stylus holder, you'll never have to worry about being without a stylus again! This is a great solution for replacing a missing stylus and for keeping an extra one at home, the office, or in the car. And for added convenience, the Replacement Stylus has a retractable design!

Currently available for: Cingular 8100, Cingular 8125, Dopod 838, i-mate K-JAM, Mio A700, Mio A701, O2 XDA mini Pro, O2 XDA Mini S, Orange SPV M3000, Qtek 9100, T-Mobile MDA (US version-Vario), Vodafone VPA Compact II

Check it out the Replacement Stylus! (Source: Press Release)


Posted Tuesday, August 22 2006 by ChrisD
Rating: n/a Comments ()

---
Post to Blogger from your Windows Mobile device, rediscover blogging !



A completely new way to share what you discover on your mobile device has just been released.

Thanks to Hubdog's new "Blog it" feature, you can now post to Blogger blogs from Windows Mobile devices. Find interesting News or Podcasts from your Hubdog channels and post them back to your blog within 2 clicks !

This easy blogging & clipping tool brings new possibilities to the traditional, deskbound blogging experience. Here are some cool examples of new innovative ways to use your blogs and your Windows Mobile device:

1. Share what you discover

Every day, my colleague Yuri reads its favorite news and entertainment feeds with Hubdog on its mobile device; clicking on the "blog it" button every time he stumbles upon an interesting item to post on its blog.

The results: Yuri publishes a stunning blog; well, I personally think so! Why? Because we evolve in the same business and have so many common interests; this is why I find his blog so compelling and extremely interesting.

Yuri also uses his blog as a personal bookmark tool. During meetings for instance, he often refers to his blog posts to point out new suppliers and competitor offers.

Consistently, Yuri uses his blog and Hubdog to record every interesting article he discovers throughout the day.

This feature is an effective new way to share and track news and information anywhere, anytime.

I encourage everybody to use this feature to update and enrich their blogs, whether you need to share relevant business information, hot topics, viral media, fresh news or entertainment with friends and colleagues.

2. Create fresh entertainment channels

Since Hubdog provides video, image, radio, podcast and mp3 playback support; you can aggregate entertainment channels by simply using your "blog it" button

to clip & post media items to a dedicated entertainment blog created for this purpose.

Users can then press the Play button associated with the Hubdog mobile version of this blog; this will start the channel playlist,letting you enjoy a non-stop friendly-suggested media experience.

Share with us more innovative ways to use Hubdog's "Blog it" feature at [email protected]
or by visiting this forum: http://www.hubdog.com/forum/viewtopic.php?p=371#371

Hubdog "Blog-it" Features

- Posts items online or offline.
- Support for the most popular blog site on the web; only Blogger is supported at this time. More blog services to be announced soon.
- Add images and enclosures to your posts.
- Minimal upload bandwidth; text, images and enclosures from a post are not uploaded from the phone, hubdog server manages this process.
- Send posts while on the road. Be the first to break the news no matter where you are. (Source: Press Release)


Posted Tuesday, August 22 2006 by ChrisD
Rating: 5 Comments ()

---
Conduits Technologies, Inc. Announces Pocket Slides 2.5 for Windows Mobile 5 Pocket PC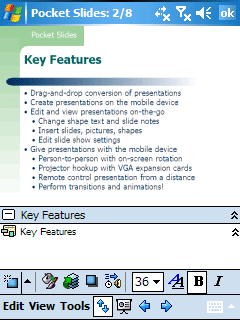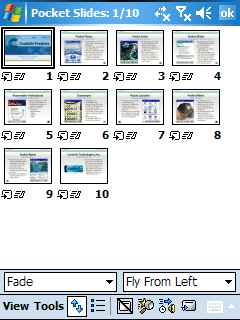 Pictured, left to right: Pocket Slides Normal View; Slide Sorter. More screenshots are available at the Pocket Slides website.

NEW YORK, NEW YORK, August 22, 2006 - Conduits Technologies, Inc. announced today the release of Pocket Slides 2.5, a fully-featured presentation solution for Windows Mobile 5 Pocket PC, Windows Mobile 2003, Windows Mobile 2003 Second Edition and Pocket PC 2002 devices. Pocket Slides enables users to create, edit, view and give presentations on a mobile device. Existing presentations from Microsoft PowerPoint can be transferred from the desktop to the device using Pocket Slides' conversion software. Pocket Slides 2.5 improves upon earlier versions by introducing additional device and desktop compatibility, enabling new options for VGA and projector output and a multitude of bug fixes.

PLATFORM COMPATIBILITY

Pocket Slides now fully supports all Windows Mobile 5-powered Pocket PC devices. The new release works with all current Pocket PC devices, including the Treo 700w, as well as all older models, including Windows Mobile 2003SE, 2003 and 2002 version devices. This release is fully compliant with square screen devices as well as screen rotation. During presentations, the slide display uses the Pocket PC's screen rotation to display landscape-oriented slides, which yields better performance for animations and transitions. On older devices without built-in screen rotation support, Pocket Slides rotates the slides on-the-fly.

The conversion utility that Pocket Slides 2.5 uses to convert PowerPoint (PPT) files into Pocket Slides (CPT) files has been improved, with full support for PowerPoint 2003 as well as the upcoming PowerPoint 2007 release. Pocket Slides also supports slide dimensions other than landscape, such as A4-size and portrait-mode documents.

NEW OUTPUT CHOICES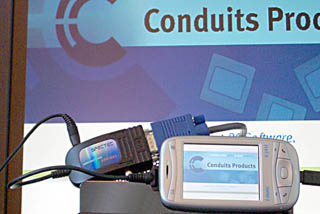 i-mate K-JAM (T-Mobile MDA) Pocket PC connected to the Spectec miniSD VGA output device, displaying a Pocket Slides presentation on external monitor (shown in background).

Pocket Slides 2.5 greatly builds on its support for VGA output peripherals for Pocket PC devices. The Dell Axim X50v and X51v units feature VGA-output ability by way of a cable attachment to the bottom of the Pocket PC, is now supported. This is currently the favored way to give a presentation with a Pocket PC, as the "onboard" VGA chip yields the best performance. Other supported VGA solutions include several CompactFlash VGA cards, such as the Colorgraphic Voyager card.

Pocket Slides has new methods to move presentations out of Pocket Slides once editing is finished. The "Export slides" command lets the user export one slide or all slides to either JPEG or PNG image formats. The user also has the option to export "intra-animation" steps in the slide as separate images. For instance, each item in a bulleted list animation would be saved as a separate image.

The new export function is used with the new Spectec SDV-840/841/842 VGA output device. This SD (/miniSD/microSD) card device features a "dongle" which connects to a VGA cable (for a projector) or to an S-Video cable (for a television). The bundled software contains a JPEG viewer, and can load up a deck of images that Pocket Slides 2.5 has exported, and present them on its device, complete with remote control.

BUG FIXES

Since its release in 2004, Pocket Slides 2 has undergone several internal revisions and been subject to many external tests from beta users. This process has led to the resolution of every bug reported in the Pocket PC installation, and all errors and problems in the conversion process has been fixed in the desktop installation. For example, many PowerPoint 2003 presentations would cause errors (or noncompletion) to occur during the conversion process, and those problems have been resolved. Some presentations linking to external sounds and music were not transferring those sounds to the device, and those presentations are now converting properly. On the Pocket PC, complex timed animations were not being presented properly, and that problem has been fixed. This feature is useful for presentations that are synchronized to music.

AVAILABILITY

Pocket Slides 2.5 is available as a 30-day commercial demo from http://www.conduits.com, where the user can download and evaluate the software.

Pocket Slides 2.5 is available for purchase at $39.95. More information, including a full list of features, complete documentation and screenshots can be found on the Pocket Slides website at: http://www.conduits.com/products/slides/. Upgrades for customers who purchased Pocket Slides 2.0 are free, and for those who purchased version 1.X, are priced at $19.95 from http://store.conduits.com/posl2up.html. (Source: Press Release)


Posted Tuesday, August 22 2006 by ChrisD
Rating: n/a Comments ()

---
A new architectural CAD for Windows mobile is released.



Shape CAD draw your plan in a hand and export in 2D or 3D dxf format.

With On PC, software freeware complementary to Shape CAD, you can easily complete your plan, modify your measure and print the work.

Useful for architects, engineer and technician that work frequently out office.

Download a trial version from the website. http://www.shape-cad.com (Source: Press Release)


Posted Monday, August 21 2006 by ChrisD
Rating: 3 Comments ()

---
Copyright 2004-2010 Chris De Herrera, All Rights Reserved
A member of the Talksites Family of Websites
All Trademarks are owned by their respective companies.