Your Source for the latest news and articles about the Pocket PC!
Week of September 19, 2004
Rick Steves' Railpass Guide

Plan, buy, and learn how to use railpasses for your trip to Europe.

This is your complete resource for European passes and train travel by Rick Steves, author of America's best selling handbook on budget travel. Lots of valuable extras ...

Rick Steves' company, Europe Through the Back Door, is one of the country's biggest sellers of Europe train passes, and Time Magazine calls Rick "the reigning guru for Americans vacationing abroad."

To find the right railpass for your trip, follow Rick's step-by-step method, use the Railpass Guide for Pocket PCs, and you'll stay on the right track!

The iVia Guides program consists of a FREE application viewer, along with separate guides, including Rick Steves' "Mona Winks", self guided tours of Europe's top museums in London, Rome, Paris, Florence, and more.

Also available is the Country Factbook by iVia Guides, a handy reference with maps and mega-information on 268 countries and regions of the world.

The iVia Guides viewer, Rick Steves' Railpass Guide, "Mona Winks" tours, and the Country Factbook can be downloaded from the Internet from PocketGear.com and Handango.com.

Watch for more travel reference titles coming to iVia Guides!
(Source: Press Release)
Posted Saturday, September 25 2004 by ChrisD
Rating: 2.16 Comments ()

---
Pool Challenge for the Smartphone released by AIM Productions



Are you one of those small-time Pool hall junkies with a self-destructive attitude, or do you consider yourself to be the real deal? Either way, If you've got the "balls" and show us "the color of money", we'll give you the ultimate "Pool Challenge"!Are you one of those small-time Pool hall junkies with a self-destructive attitude, or do you conside
r yourself to be the real deal? Either way, If you've got the "balls" and show us "the color of money", we'll give you the ultimate "
No sitting back and relaxing with this game, you'll need every trick in the book and much more to beat this puppy! Anyway, with Pool Challenge you'll be entering the dark world of cigarettes, poor liquor, fast women and dirty pool!
Everything a real pool hustler ever wants!

Think you're ready to shoot the eyes right off them balls? Then mark this:
With Pool Challenge, you'll simply be getting the best pool simulation game, with the most realistic physics, and the nicest high-resolution graphics. Actually, your whole SmartPhone will literally become a virtual pool table!

(Source: Press Release)
Posted Saturday, September 25 2004 by ChrisD
Rating: n/a Comments ()

---
Mooseworks Software Graph Control Press Release

"The Graph Control provides every graphing feature you could want: Legends, Zooming, Date/Time, Logarithmic, Inverted axes, Right and Left Y-Axes, Cursor Values, and more. The control is 100% native .Net, so there are no unmanaged dlls to create deployment worries. Compatible with Windows CE and PocketPC applications. No redistribution licensing fees and free updates for one full year. Yes, $80.00 and you can distribute the control in your application to as many users as you want!

Logarithmic Axis Inverted Axis
Date/Time Mode
User Zooming Capability
Graph Legend
Right and Left Y axes
Scrollable axes
Logarithmic, inverted and normal axes in any combination
DateTime mode for X-Axis data
Zoom mode. The user can outline an area on the graph with the pen, and when the pen is lifted, the graph will zoom onto that area. Zooming in can be done an unlimited amount of times. Menus are available for zooming out. Just tap outside the graph's plot area.
Bar, Line or combination plot types
Auto scaling
Title and Axes Labels
Cursor event
Text File and Bitmap File Export
Enter up to eight series of data
Data can be entered as two arrays (X and Y data) or as one combined array
Full customization:

Title font and color
Legend location, labels, fonts and colors
Axis labels, precision, fonts and colors
Major and minor tick mark spacing and colors
Major and minor grid colors and visibility
Auto or manual scaling
Colors for each individual plot
Border colors width, and styles (3D, single, none)
Chart background and plot background colors

Property pages allow easy design time customization
100% native .Net Compact Framework - Windows CE and PocketPC compatible." (Source: Press Release)

Posted Friday, September 24 2004 by ChrisD
Rating: 2.5 Comments ()

---
2004 MobileVillage Mobile Star Awards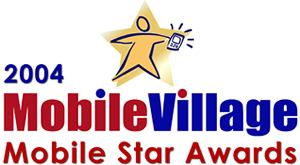 Software: Productivity Tool for Windows Mobile / Pocket PC


Posted Friday, September 24 2004 by ChrisD
Rating: n/a Comments ()

---
.NET To Go Mobility Roadshow

"Have you been thinking about taking your code mobile? Did you know you can develop and implement mobile solutions with the development tools that you already know?

The .NET To Go Mobility Roadshow will provide you with the answers to your mobile development questions. Digging into the details, using more code and fewer slides, these technical sessions will show you how to develop and implement mobile solutions using the .NET Compact Framework and languages you are already familiar with.
Location
Salt Lake City, UT*
Denver, CO**
Irvine, CA
Philadelphia, PA
Reston, VA
Minneapolis, MN
Buffalo, NY
Detroit, MI
New York, NY
St. Louis, MO
Kansas City, MO
Orlando, FL
Atlanta, GA
Portland, OR
Chicago, IL
Dallas, TX
Houston, TX
Mountain View, CA

Date
10/05/04
10/06/04
10/07/04
10/14/04
10/15/04
10/18/04
10/18/04
10/20/04
10/20/04
10/27/04
10/28/04
11/01/04
11/04/04
11/08/04
11/09/04
11/09/04
11/10/04
11/10/04


* Salt Lake City, 10:00 a.m.-1:00 p.m.
** Denver, 3:30 p.m.-6:30 p.m. "(Source: Microsoft's website)


Posted Friday, September 24 2004 by ChrisD
Rating: n/a Comments ()

---
Bitstream ThunderHawk Nominated for Pocket PC Magazine's Best Software of 2004 Awards

"International Board of Experts Nominates ThunderHawk Wireless Web Browser for Second Consecutive Year


Bitstream Inc.(R) (NASDAQ: BITS) announced today that Pocket PC magazine has nominated ThunderHawk(TM), the company's breakthrough mobile browsing technology, for the publication's Best Software of 2004 Awards. The awards, now in their fourth year, honor companies that produce outstanding software for Windows Mobile Pocket PC and Smartphone users.

ThunderHawk previously won Pocket PC magazine's Best Software of 2003 Award in the "Browsers and Web Utilities" category, the same section the browser was nominated for this year.

Approximately 600 products in 100 categories were judged for the Pocket PC magazine awards in 2003. To view a complete list of 2004 categories and nominees, visit: http://www.pocketpcmag.com/awards/main.asp

"A second consecutive nomination from Pocket PC magazine acknowledges Bitstream's commitment to Pocket PC and Smartphone users, and demonstrates our understanding of the issues users face when browsing the wireless Web," said Anna Chagnon, President and CEO of Bitstream. "Our main objective is to make it easy for users to find and read information on small screen devices. Bitstream recently released ThunderHawk 2.0 Pocket PC Edition, which provides improved scrolling capabilities, increased speed, and the ability to read information on-the-fly. ThunderHawk's features directly enhance the user's mobile browsing experience, and Bitstream is honored to be recognized for these contributions."

Over 75 experts in Pocket PC and Smartphone software from around the world help select the nominations and determine the award winners, who will be announced at the CTIA Conference in San Francisco on October 26 and listed in the December/January 2004 issue of Pocket PC magazine.

Users can download a free 30-day trial of ThunderHawk Pocket PC or Smartphone Editions at http://www.bitstream.com/wireless. For more information about ThunderHawk, e-mail the ThunderHawk team at [email protected]. " (Source: Press Release, Business Wire)


Posted Thursday, September 23 2004 by ChrisD
Rating: n/a Comments ()

---
Solid PDA that's packed with features



" On the other hand, companies like Taiwanese IT giant Asus have not given up. Their latest MyPal A730 Pocket PC is testament to adding new value to a tired product.

Now the best thing about the lilac-coloured A730 is the 3.7-inch touch-screen.

It has a resolution of 640 by 480 pixels which, by the way, is the same resolution of clunky desktop PC monitors about a decade ago.

This translates into an incredibly sharp display where pixels are packed so tightly together it makes your electronic documents look almost like they were printed with ink. " (Source: TECH MAD, Ian Tan, the electric new paper)


Posted Thursday, September 23 2004 by ChrisD
Rating: n/a Comments ()

---
HP iPAQ rx3715 Pocket PC Review

"An excellent unit. it's compact, yet has just about every feature you could want in a PDA. The 1.2MP camera takes surprisingly good photos and decent videos with very good audio. The iPAQ has a great screen, nice multimedia software, and strong performance. If you're looking for a device in the $500 price range with a camera, the rx3715 should be on your short list, especially if you're a multimedia fan.

Pro: Excellent camera, great display, loud sound, strong performance and dual wireless. WiFi has great range and HP's Bluetooth software (Widcomm) is as always, solid and user friendly. Consumer IR, and Nevo AV remote is included in ROM— everyone loves Nevo.

Con: Could use more RAM, though the extremely large File Store area makes up for this. If you're an action gamer, the d-pad may not thrill you. " (Source: Lisa Gade, PDABuyersGuide)


Posted Thursday, September 23 2004 by ChrisD
Rating: 1.5 Comments ()

---
MDM Announces Multiplatform Centipede & More Classic Games Collection for Handheld Devices; New MDM Game Compilation Offers Everything from Centipedes to Snails

"Mobile Digital Media (MDM), a world leader in providing high quality consumer software for mobile devices, today announced the release of its newest premier game collection: Centipede(R) & More Classic Games.



Centipede & More Classic Games represents a broad selection of popular and award winning mobile games offered in one CD-ROM collection for both Palm OS(R) and Windows Mobile(TM) devices. Centipede & More Classic Games includes 8 individual titles covering a variety of game genres from arcade to sports to strategy to puzzles.

"When you buy an MDM game title we want to make sure that we deliver the finest gaming experience possible for the most handheld devices," said Barry Cottle, CEO of MDM. "That means the best game play, best graphics, highest sound quality and in this case most world renowned games we could possibly deliver in one package."

Centipede & More Classic Games Includes:

-- Centipede, the officially licensed Atari 2600 game for your handheld device, reproduced with absolute authenticity; powered by a sophisticated emulation engine and designed specifically for mobile use.

-- Snails(TM), the award winning action and strategy game, has been continuously developed for over two years and features fantastic graphics, sounds, background music and exciting game play.

-- Kasparov Chessmate(R), powered by an advanced chess engine, this popular mobile game is designed to provide hours of thrilling contests for players of all skill levels. Endorsed by Grand Master Garry Kasparov, Kasparov Chessmate is a chess adventure that turns a handheld device into a challenging opponent.

-- Tennis Addict, incorporates realistic ball physics, vivid graphics, and an easy-to-play stylus interface to accurately control your serves, player moves and racquet. The game offers multiple court-types and 16 fully-animated opponents, each with unique abilities.

-- Spellbound, the original, interactive word game! Form words from the game board's jumbled letter tiles to complete the goal for each round. As words are spelled, they disappear from the board, and new lettered tiles fall into place.

-- Slurp. Grab your straw, slurp up the colored drops, and clear the board. As you slurp, remaining drops reform into different shapes.

-- GameBox Solitaire(TM), an amazing collection of 10 well-known, high quality card games. Crisp graphics, high quality music and sound effects, smooth card animations and fantastic playability make this a wildly popular mobile title.

-- The Emperor's Mahjong, the ancient Chinese tile puzzle that goes with you anywhere! Master spheres of knowledge, ascend through levels before a final challenge. Mahjong features 72 unique board layouts in six themes. Plus, you can create and save your own layouts.

Centipede & More Classic Games is compatible with Palm OS(R) 5.0 and higher devices and Windows Mobile(TM)-based Pocket PC and Pocket PC Phone Edition 2002 or higher devices. Available now at nationwide retailers, online resellers and at www.goMDM.com for $29.99.

For more information go to www.goMDM.com." (Source: Press Release, Business Wire)


Posted Thursday, September 23 2004 by ChrisD
Rating: n/a Comments ()

---
Laridian Releases the NIV Study Bible for PDA Users

"Laridian, Inc., a leading publisher of Bible-related software for mobile devices, today announced the release of the NIV Study Bible in a format compatible with Laridian's MyBible(tm) software for Palm OS(r) and PocketBible(r) software for Pocket PC. The NIV Study Bible has sold over 6 million printed copies and this release marks the first time it has been offered by anyone other than its publisher, Zondervan.

The New International Version (NIV) is today's most popular Bible translation, and the NIV Study Bible is the #1 selling study Bible in the NIV translation. This latest electronic version of the NIV Study Bible includes an extensive cross-reference system from the printed edition--the most comprehensive cross-reference collection ever created for the NIV Bible. Also included are over 20,000 award-winning study notes which provide historical, cultural and theological background for NIV text; recently updated and expanded to reflect the most current biblical scholarship.

"We are committed to providing our customers with the best Bible study resources available," says Craig Rairdin, President of Laridian. "With comments on over two-thirds of the Bible's verses and a comprehensive cross-reference system, the NIV Study Bible offers invaluable insight to our customers as they read the Bible on their PDAs."

Laridian products give PDA users a convenient way to read and study the Bible on-the-go. MyBible is best-selling Bible software for Palm OS devices, allowing users to easily search biblical text, as well as add personalized notes, highlights, bookmarks and more. PocketBible, a recipient of Pocket PC Magazine's "Best Bible Software" award for three years running, is designed for Windows Mobile-based Pocket PC devices and includes powerful searching, note-taking and other advanced capabilities previously available only on desktop computers.

The NIV Study Bible is available for US$29.99 and PocketBible or MyBible (required to use the NIV Study Bible) each carry a list price of US$10.00. All are available for immediate download from the Laridian Web site (www.laridian.com).

Laridian has partnered with Zondervan to distribute a CD-ROM version of the NIV Study Bible into Christian bookstores and with Mobile Digital Media (wwwgomdm.com) to distribute to traditional retail outlets." (Source: Press Release)


Posted Thursday, September 23 2004 by ChrisD
Rating: 5 Comments ()

---
Fictionwise Gives Away Over $350,000 Worth of EBooks



"Fictionwise.com, the world's leading independent eBook retailer, and its partner publishers have given away over $350,000 worth of eBooks as part of the Fantastic Free Fall eBooks promotion. It is expected that over half a million dollars worth of eBooks will be given away by the time the promotion ends on September 30.

The second part of promotion just launched with 23 more free eBooks, including works by Warren Murphy (The Destroyer Series), John Rankine, Terry Sunbord, Tobias S. Bucknell, Richard J. Sutcliffe, Dee Lloyd, and Hugo Award Winner and former Fictionwise Author of the Year Mike Resnick. The titles are in Romance, Horror, Alternate History, Science Fiction, Mainstream, Mystery, and other genres.

The promotion runs through the end of September. Learn more here:

http://www.fictionwise.com/fallspecial.htm

If you enjoy these free titles, please support our partner publishers and authors who so generously supported this special promotion.

Publishers participating in the promotion include: Abintra Press, Amber Quill Press, Awe-Struck E-Books, Baen Books, Belgrave House, Clocktower Books, Crow Street Press, Crystalline Sphere Publishing, DLSIJ Press, Double Dragon Publishing, Eggplant Literary Productions, E-reads, Fantasy & Science Fiction Magazine, The Fiction Works, Golden Apple, Hard Shell Word Factory, LTDBooks, MH Publishing, New Albion Press, Renaissance E Books, Scorpius Digital Publishing, Scrybe Press, Silver Lake Publishing, Spellcaster E-Books, SynergEbooks, Twilight Times Books, Writers Exchange E-Publishing, and Zumaya Publications." (Source: Press Release)


Posted Thursday, September 23 2004 by ChrisD
Rating: n/a Comments ()

---
SYWARE's Visual CE® Directly Integrates Fly-CAM Mobile Cameras with Easy-to-Use Database Software for Windows Mobile Pocket PCs

"SYWARE, Inc., a leading developer of intuitive database tools for business and personal productivity, today announced that Visual CE®, the award-winning rapid application development software for database and forms development on Microsoft® Windows Mobile Pocket PCs, has added direct support for Fly-CAM Mobile Cameras. The Fly-CAM cameras are part of LifeView Inc.'s family of Pocket PC and Windows CE products. They take high-resolution pictures at up to 1024 x 1280 (1.3 Mega pixels) and can be used as a video recorder. When Visual CE and Fly-CAM are used together, users can now take pictures with their camera and directly save them as part of a database running on their Pocket PC device.

Designed for a wide range of applications, from field surveys to inventory management to patient records, Visual CE provides a powerful array of mobile development tools, all within an easy-to-use, 'no programming required' environment. To add Fly-CAM images, simply click an image control in Visual CE and it becomes a viewfinder. Point the camera, click the control again, and the image is stored directly in the Visual CE database. Finally, use Visual CE's synchronize feature to send the data to a server.

From Auction Houses to Equipment Repair

The addition of support for LifeView's Fly-CAM Mobile Cameras means developers can create information-rich, mobile database applications for end users. For example, an auction house can create a database with Visual CE that allow appraisers in the field to add images of newly found antiques. When the appraiser returns to the office, the data can be uploaded to the server in preparation for an upcoming auction. Alternatively, a field engineering group can gather data and take pictures of remotely-located equipment as part of their routine inspection process. Back at the office, service personnel can access the information uploaded to the corporate server and analyze equipment data in order to keep each piece operating at desired efficiency levels.

Powerful Templates, Royalty-Free Distribution

In addition to support for the LifeView Fly-CAM Mobile Camera, the latest major release of Visual CE, Version 8.2, enhances the software with an emphasis on flexibility for both the developer and the mobile user. New features include the addition of Northwind Mobile Traders, a software template that speeds quick and easy creation of mobile applications. Modeled after Microsoft's® Northwind Traders sample database software for Windows-based systems running Access or SQL Server, SYWARE's mobile edition runs in conjunction with Visual CE and provides users with pre-built templates for creating mobile order entry, sales tracking, and inventory management applications.

Visual CE also includes a large array of uses for variables, alarm functions, support for sounds and the creation of image maps, built-in support for 'one-click' bar code scanning using Socket's ultra-small In-Hand Scan Cards, and the ability to send SMS messages directly from within a database application.

Royalty-free distribution of Visual CE applications means developers can quickly deploy their programs throughout the company at a fraction of the cost of any other database program on the market. Integration with mEnable®, SYWARE's breakthrough wireless architecture, extends handheld applications with real-time, interactive access to server data allowing mobile devices to be easily integrated with enterprise business processes. Visual CE also works in conjunction with Report CE®, the world's only report writing tool for Windows CE and Pocket PC handhelds.

Pricing & Delivery

Visual CE applications can be created on any Microsoft Windows Mobile, Windows CE, or Pocket PC handheld. Available in four versions, the software is available for immediate download at http://www.syware.com. Visual CE Lite Edition is priced at $79, quantity one. Visual CE Personal Edition, with full forms design, relational database, and synchronization capabilities, is priced at $129, quantity one. Visual CE Professional Edition includes all the features of Personal Edition and royalty-free distribution rights; it is available for $399. Visual CE Enterprise Edition includes all the features of the Professional Edition plus SYWARE's Report CE software; it is priced at $599." (Source: Press Release)
Posted Wednesday, September 22 2004 by ChrisD
Rating: n/a Comments ()

---
PC World Magazine and About.com Articles Report Glowing Assessments of BugMe! for PDA and Smartphone Users



"PC World Magazine and About.com have both recently published reviews of Electric Pocket's BugMe! note-taking and reminder-alarm software for PDAs and smartphones. Versions of BugMe! are available for Palm OS, Windows Mobile Pocket PC, Nokia Series 60 and Sony Ericsson UIQ devices. The Palm OS version was recently re-launched as BugMe! Notepad, and includes a host of new features such as scrollable notes, bundled clip-art and distinctive alarm sounds. BugMe! Notepad also enables users to share notes by email, MMS or Bluetooth or save them to memory cards for use in documents and email messages.

"Over the last few years, BugMe has evolved into a powerful note-taking tool that surpasses most note-taking tools, including the one built-in to the Palm OS," reports William Hungerford of About.com. He also reports that "BugMe Notepad is note-taking software on steroids with features like using screenshots as templates, alarms, and the ability to email or SMS notes. If you want to do more with your handwritten notes, BugMe Notepad is well worth the cost."

"...what I really like about BugMe is that you can use it with something other than a blank screen--a photo or a map, for example," said Denny Arar of PC World Magazine. "I was able to select one of the images I'd captured with my Treo 600's camera and annotate it using the entire range of BugMe tools, even adding text using the Treo's keyboard."

Ms. Arar also appreciates the smart launch capabilities of BugMe! Notepad. "If you type a phone number, e-mail address, or URL from your contact list into your note, BugMe recognizes it and creates a link. Tap that link and it either dials the number, initiates a blank e-mail message, or activates the browser to view the Web site on a connected PDA. You can also e-mail notes within BugMe from a list of saved notes."

For more information about BugMe!, visit Electric Pocket's Web site at www.electricpocket.com. " (Source: Press Release)


Posted Tuesday, September 21 2004 by ChrisD
Rating: n/a Comments ()

---
Zi Corporation's eZiTap™ integrated into commercially available Voq Professional Phone™



"First Mobile Phone with eZiTap™ embedded; Targeted for the European and North American Markets

LONDON, UK AND CALGARY, AB, Canada, September 21, 2004 – Zi Corporation (Nasdaq: ZICA) (TSX: ZIC), a leading provider of intelligent interface solutions, today announced the Voq Professional Phone™, made by Sierra Wireless (Nasdaq:SWIR) (TSX:SW) with integrated Zi predictive text technology, is available in key European and North American markets. The Voq phone is available through Dutch carrier KPN, U.S. retail channels, and through key European distributors including A&C Systems, Cedros, Daimler, Dangaard, Hugh Symons, Speeka, Xacom, and Yes Telecom for sale in Austria, Belgium, Germany, Holland, Italy, Luxemburg, the Nordics, Switzerland, Spain, and the United Kingdom. Zi's eZiTap is integrated with Microsoft Windows Mobile software for Smartphones by the Zi Input Method Editor (IME).

The Voq Professional Phone is the first phone on the international market to embed eZiTap, which searches a built-in dictionary and predicts whole words as letters are multi-tapped on the 12 button keypad, allowing users to operate the phone with one hand. The more eZiTap is used, the "smarter" it becomes and the faster it predicts frequently used words. The Voq Professional Phone, which was created for business professionals, offers the best features of a mobile phone, messaging device, and a PDA, with the addition of a unique, flip-open QWERTY thumbpad for entering text.

"The pre-integration work Zi did with Microsoft, one of our key industry partners, allowed us to bring a differentiated product to market offering user-friendly features like Zi's eZiTap predictive text technology as a standard input mode for use across applications and services on the Voq phone," said Derek Evans, Sierra Wireless Vice President and Managing Director for Europe, the Middle East and Africa (EMEA). "Working with Microsoft and Zi have been critical in order to launch a robust product and fill a unique niche in the marketplace."

Glen Morgan, Zi Corporation Senior Vice President of Global Sales and Marketing, called the launch of the Voq Professional Phone an important milestone for Zi because of the first use of eZiTap embedded in a phone and the working relationship between Zi, Sierra Wireless and Microsoft on the project.

"The recent launch of the Voq Professional Phone is the culmination of a significant project for Zi and the work we have been doing with Sierra Wireless and Microsoft," Morgan said. "The Voq Professional Phone will help demonstrate to the global market that our predictive text products are the easiest to use and the most advanced technologies on the global wireless market."

"Innovative technology partners such as Zi, with its eZText and eZiTap text input technologies, will help users of the Voq phone more easily communicate on the go using their Windows Mobile-based devices," said Julie Wymetalek, manager of the Mobility Partner Advisory Council at Microsoft Corp.

Zi engineers worked closely with Microsoft's development team to create an IME that resolves the entire text input interface and display of Zi's text input technologies on the Smartphone platform. The IME has been extensively tested to ensure users experience a familiar Windows Mobile interface across all the phone's applications and services. For handset manufacturers, this means they can implement Zi's text input technologies and the IME without any additional man-machine interface (MMI) work and testing.

The Zi IME package for Windows Mobile-based Smartphones includes a fully developed, localized interface, intuitive display, and user cues. They combine to deliver a non-intrusive IME which runs inside any Windows Mobile-based application requiring text input. For more information about the Zi IME, e-mail [email protected].

Wireless Enterprise World 2004
To see Zi's eZiTap product on the Voq Professional Phone, visit Sierra Wireless' stand (D19) at the Wireless Enterprise World 2004 show in London, United Kingdom on September 21 and 22, 2004. Event website: www.wirelessenterpriseworld.com/2004/ent_uk." (Source: Press Release)


Posted Tuesday, September 21 2004 by ChrisD
Rating: n/a Comments ()

---
Kingston Introduces Two and Four Gigabyte CompactFlash Cards

"CompactFlash Product Line Expands to Provide Faster, Higher Capacity
Media Storage for Advanced Amateur and Professional Photographers.

Fountain Valley, CA September 20, 2004, -- Kingston Technology Company, Inc., the world's leading independent memory manufacturer, today announced the immediate availability of 2-GB and 4-GB CompactFlash Elite Pro cards featuring the latest in high-density Flash components to optimize performance and storage capabilities.

As technological advancements produce more sophisticated digital devices, demand for higher-performing CompactFlash is continuing to grow. "Expanding our Elite Pro line to include the 2-GB and 4-GB CompactFlash Elite Pro cards is essential to support imaging professionals with the best digital storage for their high-end cameras and devices," said Mike Kuppinger, digital media product manager, Kingston.

The new 2-GB and 4-GB CompactFlash Elite Pro cards provide a low-price-per-megabyte solution of reliable, high-speed media. With ultra-fast transfer rates, users will enjoy more efficient workflow than ever before. The 2-GB cards work in virtually any digital device. The new 2-GB CF cards work in just about any digital device but advancements in technology may prevent some cameras, MP3 players, PDAs or other digital devices from fully utilizing the 4-GB CF cards.

The new 2-GB and 4-GB CF cards enhance performance of power-hungry imaging applications used by both advanced amateur and professional photographers. When used in conjunction with matching high-performance digital devices, Kingston's CF Elite Pro cards provide ultra-fast transfer times with read speeds up to 10 MB/sec. and write speeds up to 8 MB/sec.

Product Highlights:

Standardized: Complies with CompactFlash Association specification and standards.
Fast: Supports data transfer rates up to 10 MB/sec. read and 8 MB/sec. write.
Small: One-third the size of a traditional PC Card.
Easy to use: Plug and play.
Versatile: Use with available PC Card Type II adapter for quick and easy data transfer.
Economical: Autosleep mode preserves system battery life.
Dual Voltage: 3.3 V and 5.0 V dual voltage support.
Compatible: Supports Macintoshâ OS and Windowsâ applications 98 and above.
Guaranteed: Lifetime warranty

Kingston's 2-GB Type I CompactFlash Elite Pro card, part number: CF/2GB-S has a Manufacturer's Suggested Retail Price (MSRP) of $219.00* and the 4-GB card, part number: CF/4GB-S has an MSRP of $500.00*. All Kingston CompactFlash products come with a lifetime warranty and free technical support. For more information on Kingston's complete Digital Media product line, visit the Kingston Web site at kingston.com/digitalmedia." (Source: Press Release)


Posted Monday, September 20 2004 by ChrisD
Rating: n/a Comments ()

---
HP iPAQ rx3115 Pocket PC Review

"The rx3115 is a very good unit for the money, offering strong performance, Bluetooth, WiFi and the ever-popular Nevo AV remote. In fact, all the Fall 2004 iPAQs except the rz1715 have both WiFi and Bluetooth. Like the rz1715, it sports HP's new and not very sexy design, but unlike the rz1715, the 3115 does offer a nice set of features for the price. At $70 more than the entry level rz1715, the rx3115 brings a lot to the table, adding a faster processor, Bluetooth, WiFi, more RAM, a user replaceable battery and Nevo. If you can spare the change, the rx3115 is definitely the better buy." (Source: Lisa Gade, PDA Buyers Guide)
Posted Sunday, September 19 2004 by ChrisD
Rating: n/a Comments ()

---
StylusCentral.com Introduces New Aluminum Case for Samsung SPH-i700 Smartphone



"StylusCentral.com has released a new aluminum case designed specifically for Samsung's SPH-i700 smartphone. The SPH-i700 offers the functionality of an integrated cell phone, digital camera, and Windows-powered Pocket PC. StylusCentral's new deluxe aluminum case is designed to protect the consumers' investment in their SPH-i700 while making the device even more functional.

The new case is made of tough anodized aircraft-grade material and is precision molded to fit the exact dimensions of the SPH-i700's profile. The case includes Neoprene lining to firmly secure the smartphone and protect it against drops, shocks and collisions. Cutouts in the case provide easy access to the smartphone's stylus, Secure Digital I/O expansion slot, camera, microphone, headphone jack, reset button, IR port, and charging/communication port. The model also includes a slot for storing an extra SD card. For more information about this case, visit http://www.styluscentral.com/alcaforsai7w.html

The Deluxe Aluminum Case for SPH-i700 is regularly priced at US$29.99, but is currently available at an introductory price of $24.99. StylusCentral.com offers a 100% satisfaction guarantee on all of its products." (Source: Press Release)


Posted Sunday, September 19 2004 by ChrisD
Rating: n/a Comments ()

---
BIBLE SOFTWARE PACKAGES FOR PDA'S FROM OLIVE TREE BIBLE SOFTWARE

"Olive Tree Bible Software now has seven packages available on CD. Each package is loaded with various Bibles and study tools to meet the needs of Bible readers everywhere.

All the packages can be installed on Palm OS or Pocket PC devices, and all include BibleReader software. Read the descriptions and prices below and see for yourself the broad variety and best collections ever.

Standard Package - $24.95

Includes Amplified Bible, KJV Bible, ASV Bible, NASB Bible, Spurgeon Devotional, Matthew Henry Concise Commentary, Nave's Bible Dictionary, Spanish, French and German Bibles, daily Bible reading schedule

The Message - $19.95

Includes The Message, ASV Bible, KJV Bible, Darby's Translation, Young's Translation, Weymouth's Translation, Douay-Rheims Version, Spanish, French, and German Bibles

Devotionals - $14.95

Includes Spurgeon's Morning and Evening, KJV Daily Light, ASV Bible, God's Word

Advanced Package - $39.95

Includes ESV Bible, NLT Bible, NASB Bible, KJV with Strong's, Matthew Henry Concise Commentary, Jamieson, Faucett, and Brown Commentary, ISB Encyclopedia, Nave's Bible Dictionary, Smith's Bible Dictionary, Easton's Bible Dictionary, UBS Handbooks: John / Psalms, Spanish, French and German Bibles, and daily Bible reading schedule

Bible Study Tools - $39.95

Includes KJV with Strong's, ASV Bible, Darby's Translation, three Bible dictionaries (Nave's, Easton's, and Smith's), two commentaries (Matthew Henry; Jamieson, Faucett, and Brown),

ISB Encyclopedia, TSK, Edersheim's, Spurgeon's Daily Light, Spanish, French and German Bibles, and daily reading Bible schedule

New Revised Standard Version - $19.95

Includes NRSV with deuterocanonical books, ASV Bible, KJV Bible, Darby's Translation, Young's Translation, Weymouth's Translation, Douay-Rheims Version, Spanish French, and German Bibles

Catholic Bible Version - $24.95

Includes New American Bible with notes, New Revised Standard Version

Now through November 1, 2004, with orders of $100 or more:

· free shipping within the continental U.S.A.

· a 50% off retail discount is offered, with the balance due in 45 days

· a 60% off retail discount is offered with every prepaid order

" (Source: Press Release)
Posted Sunday, September 19 2004 by ChrisD
Rating: n/a Comments ()

---
Copyright 2004-2010 Chris De Herrera, All Rights Reserved
A member of the Talksites Family of Websites
All Trademarks are owned by their respective companies.