Your Source for the latest news and articles about the Pocket PC!
Week of October 14, 2007
Vspainter has advanced drawing tools using the last technologies of your portable windows mobile equipped with a stylet. Draw, modify, and publish your creations easily using many creation tools. A good complement tool for your professional PC/Mac desktop software.
Vspainter is also able to create, store and view simultaneous creations.
New Screen Distorsion - Manipulate your picture.
Axis Tools - Duplicate quickly with the symetric X/Y tool or flip the screen in horizontal and vertical.
Stamp Tools - Clone a part on the current page or in a other work pages.
Colors Tools - Select or Manipulate colors.
Multi pages workspace - Switch quickly between your creations.
Finger Tools - Realistic and very usefull tools.
Load and Save and manipulate your creation in JPEG Format.
Zoom Windows - Create detailed artworks Zoom by 2x, 4x or 8x.
Advanced Drawing tools - Use the advantage of the stylet. Draw anytime, anywhere.
Full Screen Mode and Historical Undo.
Devices Compatibilities - Windows Mobile 5.0 / 6.0, Phone Edition and Squared Screen Support.
Advanced brush Tools - Draw using many different brush including Line, Circle anq square.
Special Effect Brush Tools - Use special Brush Effect ( lightning, cloud, etc )
and many others features.
(Source: Press Release)


Posted Friday, October 19 2007 by ChrisD
Rating: n/a Comments ()

---
Brand-new Windows Mobile Upgrade Center!

VITO Technology is proud to present a brand-new web site with top quality software for your Windows Mobile Pocket PC. The six refined sparkling applets are just getting ready to show you the best of Windows Mobile. You'll discover your Windows Mobile can do like iPhone and much more!

Right now iWindowsMobile.com holds two applications to freshen up & upgrade your Pocket PC: FunContact and AstroNavigator II. AstroNavigator II has already become well known among Windows Mobile users for its finger friendly interface and fancy graphics with animated menus. Now they can have the same effects while managing contacts with FunContact.

FunContact is a Windows Mobile contact manager that brings iPhone experience to your Windows Mobile Pocket PC. Now you can scroll a contact list just with a flick of a finger. The animated menus and sparkling interface with big tap-ready buttons make contact managing a real fun!

Apart from its fancy finger-friendly interface FunContact provides quick access to the list of favorite contacts and to call history. Contacts can be sorted by first name, last name or company. The touch & feel principle of FunContact makes it a truly indispensable Windows Mobile contact manager!

You are very welcome to go to iWindowsMobile.com and download the applications to see for yourself the brand-new looks of Windows Mobile on your Pocket PC! (Source: Press Release)


Posted Thursday, October 18 2007 by ChrisD
Rating: n/a Comments ()

---
Conduits Technologies, Inc. Announces Pocket Player 3.5 for Windows Mobile 6 Standard and Professional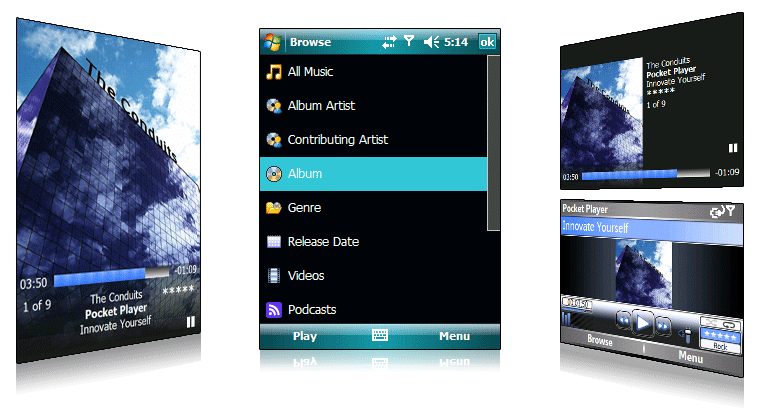 Pictured, from left: new album art visualization; browser enhancements including album art and Shuffle All icons; landscape album art display; Smartphone skin display. More screenshots are available at the Pocket Player website.
Digg this Add to del.icio.us Add to technorati

NEW YORK, NEW YORK, October 16, 2007 -- Conduits Technologies, Inc. announced today the release of Pocket Player 3.5 for Windows Mobile 6 Standard and Professional devices, and all previous models. Pocket Player aims to satisfy consumers who demand more from a media player on a mobile device. The new version includes new browsing features, a rewrite of the library system, updates to plugins, and many other fixes.
BROWSER ENHANCEMENTS
The Pocket Player media browser now sports several enhancements; in addition to browsing by artist, album, and genre, Pocket Player 3.5 introduces the ability to browse by Release Date. The Album view now displays thumbnails of album artwork, which appears alongside album and artist names.
For devices with a touchscreen, simple finger gestures can now navigate the browser list. No longer limited to using the scroll bar or the standard press/hold of the directional pad, Pocket Player 3.5 allows you to drag your finger or stylus on the list to scroll the list up and down. A quick swipe on the list will scroll through the items on screen, with the list continuing to scroll, slowing down until you tap a selection. Dragging left-to-right, much like turning back a page in a book, will navigate backwards in the browser. A through Z tabs are available on the right side of the screen, to quickly jump down in the list. Alternatively, on non-touchscreen devices with a keyboard (such as the Motorola Q or Samsung BlackJack), you can type in the first few letters of the item, and it will jump to the item.

When appropriate, the browser will include selection choices for "All" (when listing multiple albums by an artist), or "Shuffle All" (when listing multiple tracks for an album). Pocket Player 3.5 can now browse popular MP3 Blogs, such as Stereogum and Said The Gramophone. Featured in the Web Guide, MP3 blogs link to new and upcoming artists, and are a great resource for discovering new music.
LIBRARY IMPROVEMENTS
The library system for Pocket Player 3.5 has been overhauled to reflect continuing trends in mobile media usage. Since version 2.8, Pocket Player has featured a library to manage and browse the media on the device. At the time of its release, multi-gigabyte cards were uncommon. Version 3.5 updates the library system with a fault-tolerant database backend, and is scalable for devices with thousands of tracks. The library can be stored on a memory card and, unlike previous versions of Pocket Player, does not need to rescan all the tracks in Pocket Player if the system is reset or if Pocket Player quits unexpectedly.

The new library system also sports new features. User ratings, from one to five stars, are now supported for tracks. You can rate tracks, and use Pocket Player's smart playlists to queue up all noted 4-star tracks. Ratings can be imported from the desktop Windows Media Player using the new WM Adapter plugin (see below).
Play Counts are also supported. Pocket Player keeps track of what items have been played, and can also use this feature in smart playlists to queue up tracks. You can queue up your "Most Played" favorites, or use this feature with Windows Media Player to sync podcasts to the device, and auto-delete podcasts once finished with them.
PLUGIN UPDATES
The album artwork visualization has been retooled to sport a more attractive interface when in full screen mode. It is adaptable to all devices and display configurations (portrait, square and landscape), and now displays the artwork as well as the current position in the track. The song, artist and album name are prominently displayed, as well as the current rating of the track.

Pocket Player now checks for plugin updates from the device directly. By selecting "Update now" in the options, Pocket Player checks the Pocket Player website for new versions of plugins you have installed, and can download and install them automatically.

The WM Adapter plugin has been updated to reflect the new library functionality of Pocket Player 3.5. The plugin now allows the user to utilize ratings and play counts from Windows Media Player. This allows you to sync tracks from Windows Media Player on the desktop, and have them appear in Pocket Player with the correct ratings and play counts. Changes to those tags are then synchronized back to the desktop. The plugin has also been updated to fix all known problems from the last release.

The UPnP plugin has been updated with optimal stability, improved internationalization support, and compatibility with more UPnP servers such as Orb and Windows Media Player 11.

A new Bluetooth headset plugin has been added: users can now redirect all music to a connected Bluetooth mono headset. This is useful for listening to podcasts wirelessly, voicemails, and audio books.

OTHER IMPROVEMENTS

Pocket Player 3.5 addresses all known problems from version 3.2. This includes several issues with button functionality, phone interaction, and Bluetooth compatibility. For buttons, this included several instances where pressing a button would turn on the screen when it shouldn't have done so. Pocket Player now allows you to press the Power button to turn off the screen and keep playing.

Pocket Player now interacts with the phone properly; it will automatically pause playback during a phone call, and unpause and fade in the music after a phone call. Pocket Player 3.5 also has smoother interaction with Bluetooth A2DP headphones. When connecting or disconnecting headphones, Pocket Player will automatically reroute the audio to the headphones, or back to the speakers. Previous versions required exiting the player.

Additional skins are bundled with the player for the newest Windows Mobile devices, such as skins for WVGA (480x800) and square QVGA (320x320) devices. The skin for landscape-oriented Smartphones has been redesigned. Pocket Player also supports skins for Windows Media Player, as well as Winamp skins (on touchscreen devices only).

AVAILABILITY

More information, including a complete list of skins and features, can be found at the Conduits website at http://www.conduits.com/products/player/.

Pocket Player 3.5 for Windows Mobile Pocket PC and Smartphone is available as a free trial from http://www.conduits.com/products/player/ where the user can download and evaluate both products unabridged for 30 days.

For registered users of Pocket Player 2.X and 3.X for Windows Mobile Pocket PC and Smartphone from September 2005 to present, the upgrade is free.

Upgrades for customers who purchased Pocket Player 1.X and 2.X before September 1st 2005, are priced at $9.95 from http://store.conduits.com/popl2up.html. (Source: Press Release)


Posted Tuesday, October 16 2007 by ChrisD
Rating: 4 Comments ()

---
Spb Pocket Plus: Reincarnating the Legend



St. Petersburg, Russia - October 16th, 2007 - Spb Software House, the world's leading Windows Mobile software maker, releases a new version of its legendary Spb Pocket Plus application. Spb Pocket Plus 4.0 works as a seamless extension of Windows Mobile, building on the natural strengths of the Microsoft platform, while dramatically enhancing the functionality.

In essence, this distinguished by Microsoft and award-winning product, is a long-awaited pack of features, called on to compliment the original Windows Mobile platform. Over a million users from all over the world have come to rely on Spb Pocket Plus for making their device experience run smoother with a set of convenient features, lacking in out-of-the-box mobile devices. In comparison with the previous versions, the new Spb Pocket Plus is smaller, yet richer in functionality, and is faster than ever before. Spb Pocket Plus teaches Windows Mobile Pocket PCs to support smart-scrolling, to adopt the multi-tab browsing ability in Internet Explorer, to employ a user-friendly Save/Open dialog, and to customize the Today Screen, facilitating fast access to favorite items and settings.

*** The Top Ten Spb Pocket Plus Novelties ***

1. Reduced on-device program size
2. Reduced memory consumption
3. Faster than Spb Pocket Plus 3.2
4. Smart scrolling
5. Tabs in Internet Explorer
6. Shortcut labels on Today Screen
7. Multiple third-party Today plug-ins, placed into Spb Pocket Plus tabs on Today
8. Fast-search in Internet Explorer
9. New file Save/Open dialog
10. Additional actions assigned to hardware button long-pressing

Spb Pocket Plus is an important product for Spb Software House, it was "the plus" that marked the company's first major success on the global market for Windows Mobile software. Spb Pocket Plus was the first of Spb's products to reach the number one best-selling position in the world. Today, with the release of Spb Pocket Plus 4.0, Spb Software House recognizes the input of millions of its users, who have generated thousands of ideas for improving the Windows Mobile operation system, leaving Spb Software House to select and realize the ones most inherent to a modern mobile device. To save visitors time and to facilitate faster introduction, the company's website now offers video-tutorials, clearly demonstrating the advantages and the ease of using the new Spb Pocket Plus.

*** Pricing and Availability ***

Spb Pocket Plus is available in 14 languages; it is compatible with Windows Mobile 2003 for Pocket PC, Windows Mobile 2003 Second Edition for Pocket PC, Windows Mobile 5.0 for Pocket PC, Windows Mobile 6 Professional and Classic (with touch screen), all Windows Mobile screen resolutions are supported. A free, 15-day trial can be downloaded, or Spb Pocket Plus can be purchased for 29.95 USD, from www.spbsoftwarehouse.com.

Users of any 3.x versions of Spb Pocket Plus are welcome to upgrade to Spb Pocket Plus 4.0 for just 14.95 USD. According to Spb Software House upgrades policy, all Spb Pocket Plus users, who have purchased the product within the last 90 days, are invited to exchange the previous version of software for the newly released one, for free.

*** Further Information and Downloads ***

Further information regarding Spb Pocket Plus can be found at the Spb website:
http://www.spbsoftwarehouse.com/products/pocketplus

What's new in Spb Pocket Plus 4.0:
http://www.spbsoftwarehouse.com/products/pocketplus/history.html

A free 15-day trial can be downloaded from:
http://www.spbsoftwarehouse.com/products/pocketplus/download.html (Source: Press Release)


Posted Tuesday, October 16 2007 by ChrisD
Rating: 3 Comments ()

---
Copyright 2004-2010 Chris De Herrera, All Rights Reserved
A member of the Talksites Family of Websites
All Trademarks are owned by their respective companies.