Your Source for the latest news and articles about the Pocket PC!
Week of May 11, 2008
Elecont Pocket PC and Smartphone manager

Elecont have just announced a new animated plugin for your Home/Today screen. It'll let you manage, control and monitor your device and quickly switch between programs. Elecont Pocket PC and Smartphone manager also displays memory usage information for every running program, so you can quickly close down memory-hogs. Plugin has animated effects and optimized for finger, stylus or joystick usage.

Localized to 10 languages including English, French, Italiano, German, Spanish, Portuguese, Russian, Chinese, Japanese and Greek

During the rest of the May 2008 Receive 30% off
Learn more, download and purchase Elecont Pocket PC and Smartphone manager at http://www.elecont.com

Extend your Home/Today screen with animated plugin Elecont Weather

Key features
Windows-like taskbar on Home and Today screen
Memory usage information for each program
Animated effects
Whole memory and battery usage indicators
The easiest finger and joystick interface
Activate any program in two clicks
Close any/all programs in two clicks
Exclusion list for running programs
Compatible with any Windows Mobile 2003SE, Windows Mobile 5, Windows Mobile 6 device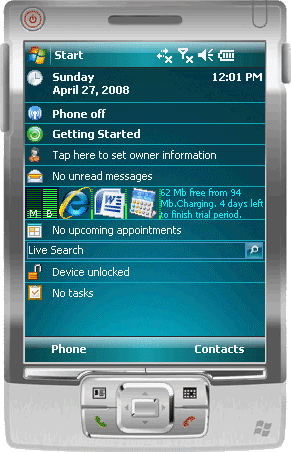 (Source: Press Release)
Posted Monday, May 12 2008 by ChrisD
Rating: 3 Comments ()

---
A new captivating logic game Hexxagon Labs released!



Hexxagon Labs is the amazing logic game, which contains over a dozen arenas filled with intellectual challenges where you are able to compete with computer rivals or play with your friends!

Funny chemistry, witty physics, exciting astronomy... Do you think that there are no such things on our planet? If so, you haven't play Hexxagon Labs yet! This amusing tactical logic game includes 17 original hard-to-solve levels. The goal of the game in each level is to occupy as many cells on a field as possible, capturing pieces of an enemy. Your rivals will be the best American and European professors whose brains were implanted in the game's artificial intellect system. You also will have an opportunity to play Hexxagon Labs with one or two friends using only one device!

In addition, Hexxagon Labs is full of interesting facts and entertaining material. Before every level you will receive new astonishing scientific information giving you the opportunity, when you have the chance, to show off your erudition and amaze acquaintances by your knowledge.

The more you play Hexxagon Labs, the smarter you will become!

Game features:

- Play with one or two friends
- 17 complicated levels / 3 bonus tutorial levels
- 3 game modes
- Original set of amusing facts from the scientific world
- Stylish music
- Attractive and bright graphics

The detailed information about the game, including screenshots, trailers and links for demo version are available on the HeroCraft PDA site - http://smart.herocraft.com/hexxagon-labs. (Source: Press Release)


Posted Monday, May 12 2008 by ChrisD
Rating: 3 Comments ()

---
Zoom in smart onscreen keyboard

May, 2008 - VITO Technology releases a new version of ZoomBoard with a new skin. New ZoomBoard supports 2 skins: black HTC Touch style and bright skin with grey and blue colors.

New ZoomBoard allows for quick and accurate typing and can satisfy even very squeamish users' demands with 3 different types of zooming: full zoom, lens zoom, float zoom. Now even more freedom for our users. You can change the color of your keyboard to suit your mood. Use either black stylish interface or bright-colored blue skin. The new black skin looks great on HTC Touch devices.

ZoomBoard is available for $14.95 at http://iwindowsmobile.com. (Source: Press Release)


Posted Monday, May 12 2008 by ChrisD
Rating: 4 Comments ()

---
Copyright 2004-2010 Chris De Herrera, All Rights Reserved
A member of the Talksites Family of Websites
All Trademarks are owned by their respective companies.